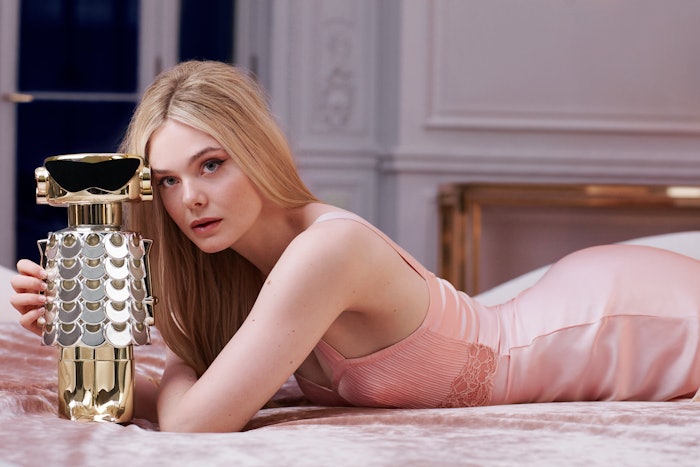 C/O Paco Rabanne
In early February 2023, Paco Rabanne launched FAME feminine fine fragrance. The scent is described as a blend of jasmine,  mango and incense, in a mission to capture the new era of feminity. The fragrance was created by a team of four, Dora Baghriche (senior perfumer, Firmenich), Marie Salamagne (principal perfumer, Firmenich), Alberto Morillas (master perfumer, Firmenich) and Fabrice Pellegrin (principal perfumer). 
Perfumer & Flavorist+ (P&F+) connected with Baghrice to discuss the inspiration behind the creation. The final question was provided by the brand with insights from the entire team.
P&F+: What was your inspiration behind creating this fragrance?
Dora Baghriche [DB]: The inspiration for this fragrance was really empowered, confident, distinctive female icons. Think Jane Fonda, Audrey Hepburn and Bridget Bardot. These incredibly chic and covetable women were pioneers of a new era of femininity, and we wanted to create a fragrance that really embodied that.
P&F+: Can you touch on the palette of notes you used to create this fragrance (sourcing, working with the selection)?
DB: The palette is filled with cutting-edge, eco-friendly ingredients. A few standout hero notes include jasmine which was harvested using micro-liquid technology from Grasse, and the first mango accord made 100% of natural origin. It was a Sicilian mango that was processed in Grasse, using a Firmenich technique called Nature Print. We captured the scents of mango and mango leaf, analyzed them, and reproduced them as closely as possible to their original scent, using only natural ingredients.
We were also able to incorporate Firmenich's hero molecule, Dreamwood (trademark of Firmenich), which is a natural, renewable, and biodegradable material produced through a white biotechnology process to create an irresistibly creamy and woody combination.
P&F+: Any ingredients that came to mind first when trying to capture the "new era of femininity?"
DB: To emphasize the "new era of femininity," we chose an explosive trio of incense, wrapped in the addictive sensual warmth of sandalwood and vanilla. To even further exemplify femininity, we brightened the notes with jasmine and mango for a naturally cheerful, fresh, and delicious note. The result of these scents tied together creates a free and disruptive woman to embody this new era of femininity.
P&F+: From your perspective, how are consumer demands changing when it comes to luxury fragrances? Any trends you're witnessing?
DB: In 2023 and beyond, we will see several trends in fragrance such as:
A demand for a more sustainable and socially responsible approach to creating fragrances. For FAME we used notes that are sourced responsibly such as the vanilla from Madagascar, the incense blend and the sandalwood.
Scents that are feel good and FUN–pushing our comfort zone with flavors and edible textures that take scents to the next level.
This was accomplished in the FAME fragrance with the use of both creamy, clean and juicy mango with green, yellow and red tones.
The use of comforting notes like vanilla, musks and woods. Since the beginning of COVID, we've seen a rise in comforting smells. Vanilla for example with its gourmand yet natural aspect is often a central element for comforting fragrances and is often associated with white musks and woods. It is a complex ingredient because it has a wide range of facets: rich, sweet, balsamic, woody, spicy, and sometimes even a tobacco aspect. It conveys all types of feelings but also calls for sensuality with its carnal texture, and it helps convey sensuality in FAME.
FAME: There are four of you. How did you work together?
Marie Salamagne: The Paco Rabanne teams provided terrific guidance. In this great shared adventure, each one of us sought our own paths before coming together. Around the table, we let ourselves be surprised by the others' visions, which we then embraced and discussed. We all learned a lot from each other.
Alberto Morillas: The original idea was Dora's, but we worked symbiotically. At each stage, each of us proposed something, then we restarted from the formula selected by the Paco Rabanne team. So there was both harmony and a personal quest at the same time. That was how we proceeded, without self-interest or ever wanting our idea to be the one chosen. We really took great joy in developing it, and you can smell this in the perfume.
DB: The note had so many facets to explore that each of us had a kind of feeling for one of the facets of the perfume, and contributed to refining it.
Marie Salamagne: We were aware that we were so lucky to work on this accord, which we found wonderful, and we put a lot of energy into it, because we were happy to be working together, we love the brand, and you can smell it in the fragrance!