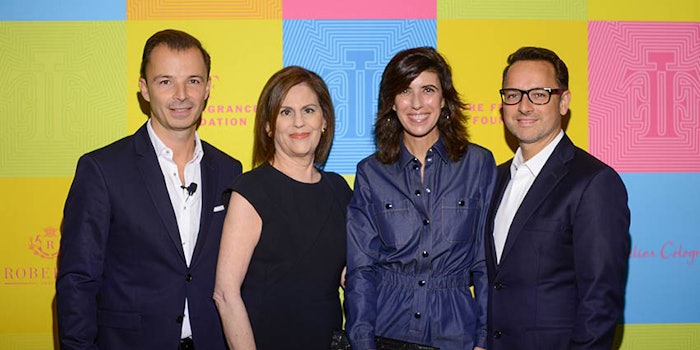 Photo: Casey Kelbaugh
On Oct. 23, 2018, The Fragrance Foundation hosted its annual fall Creatives panel, at New York City's Morgan Library, which featured a discussion between Atelier Cologne founders, Sylvie Ganter and Christophe Cervasel, and Robertet chief perfumer Jerome Epinette. The conversation was moderated by fragrance expert and consultant Ann Gottlieb.
Ganter and Cervasel—partners in both life and business—launched Atelier Cologne in 2009, and are credited with creating a new olfactive family—cologne absolue, a pure perfume inspired by eau de cologne and, per Ganter, "meant to last on the skin."
The quartet discussed the brand's inception, born from the desire Ganter—a lifelong cologne wearer—had to create a long-wearing, wholly unique scent. "I was frustrated, because I felt so many colognes on the market smelled very similar, and they didn't last… I [wanted] to be the one that showed it could be different." Partnering with business-minded "serial entrepreneur" Cervasel to make that dream a reality, the duo sought out a family-oriented fragrance house and found that things "really clicked" with the team at Robertet.
Then as the brand grew, it gained the attention of L'Oréal and was acquired in 2016. Through the acquistion, the brand was able to maintain its leadership among niche perfume brands, while leveraging L'Oréal expertise to develop a market presence in China. "We felt a lot of respect," from the team at L'Oréal, Cervasel noted.
Initially launching as a Bergdorf Goodman/Neiman Marcus exclusive before expanding to Sephora, the brand is now sold in more than 30 countries and has 18 freestanding stores. It's Madison Avenue Flagship opened in October 2018.
On selecting, and working with, Robertet
"[It] was an obvious choice.  We wanted to work with family houses where the know-how was about naturals" –Ganter
"Coming from Robertet, I have access to those beautiful natural ingredients and sometimes I can start the creation based on one ingredient."—Epinette
On their relationship with L'Oréal
"We chose L'Oréal for many reasons, one of them I think is their extraordinary cosmopolitan culture." –Cervasel
"Our intention was never to create a natural brand.  We wanted to create a genuine brand, an authentic brand but they've showed us sides or facets of our brand that we didn't even express." –Ganter
On their ethos
 "The things that are important is to always start with beautiful raw materials and to express it in a way that it has never been expressed before." –Ganter
"Be yourself, be different and in the end … convince customers." –Cervasel