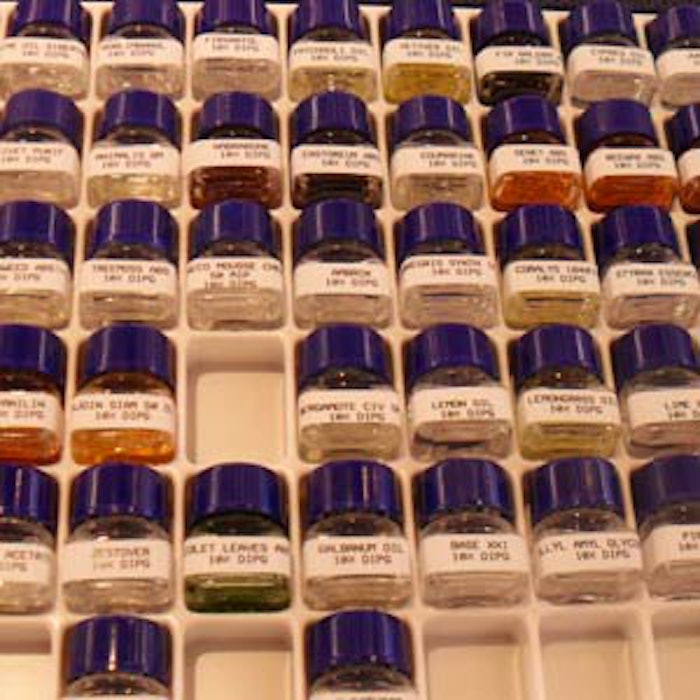 Despite the increasing interest in perfumery and the dozens of perfume-making workshops popping up around the world, having access to good-quality, accurate information about the topic is still extremely rare outside of the industry.
Intended as an introduction to the process of perfume creation, The British Society of Perfumers (BSP) has been running two-day perfumery workshop weekends since 1979. This past March, the current BSP vice president and Firmenich perfumer, Wessel Jan Kos, brought his intensive perfumery crash course to the UK, where he held one day workshops in Manchester and London for a handful of lucky people.
Participants were a mixture of current perfumers, evaluators, chemists and other fragrance professionals, as well as independent perfumery students and interested amateurs. I attended the London workshop along with 15 others and even though the format was deceptively simple - smelling through the fragrance families to create your own mixture - Wessel Jan's delivery, his instruction throughout and the insights he shared were invaluable.
A Trip Down Olfactory Lane
Wessel Jan managed to be matter-of-fact and very realistic about what it is like to train and work as a perfumer for one of the big fragrance houses, while at the same time inspiring attendees about smelling and its creative challenges. We were treated to a whole day's worth of information on numerous topics — the competitive nature of commercial perfumery; the birth of several of the significant fragrance families, and the inevitable, but entirely deserved praise for some of the technological innovations going on at Firmenich right now.
We were educated on old extraction methods that are still in use, as well as headspace technology and CO2 extraction, how chemists can create reconstructions of aromas from plants which don't naturally yield an oil and how the palette of a functional perfumer differs from that of a fine fragrance perfumer and why.
Of course just smelling through the Firmenich palette was enjoyable in itself. The Swiss company has been at the forefront of modern perfumery right from the start with ingredients such Iralia, launched in 1903 and used in Coty's L'Origan. In 1962 they gave us perfumery's biggest blockbuster, hedione and their current star ingredient is Clearwood – a natural patchouli aroma produced using green chemistry which opens up a whole new field of perfume raw material research.
We smelled several natural and synthetic ingredients from each of the 19 Firmenich families: citrus, green, aldehydic, aromatic herbal, watery, woody, fruity, musk, mossy, orris, spicy, balsamic, amber, animal, leather, tobacco, jasmine, rose and muguet.
Stepping into the Nose of a Perfumer
In the afternoon we were split into pairs and given a brief for a creative Eau de Cologne, which was to be completed in a couple of hours. Wessel Jan's blending kits were mercifully practical and we were therefore able to assess our project and create multiple mods in a matter of minutes.
It was really interesting to observe the different ways everyone approached the task – some highly methodical, some apparently chaotic – but the style and creativity of scent did not necessarily correlate with how it had been put together.
Our fragrances were judged by the 'client' (in this case Wessel Jan and Roger Duprey, BSP secretary and an industry veteran with 50 years of experience); and as if that wasn't enough, we had to compete against the 'other fragrance house' – the Manchester group whose perfume creations from the day before were in Wessel Jan's suitcase.
Alas, our London winners, Olga Emeretli and Paul Schütze, were pipped to the post by the Manchester winners, Rebecca Mulcahy and Bev Moore, whose creation was judged to be closer to the brief and therefore the overall winner.
Educating the Future of Fragrance
This kind of day could be life-changing early on in a person's fragrance career and highly illuminating at any other stage, too, so let's hope that there will be many more on offer. The recent launch of ISIPCA and IFF partnership master's program in fragrance design shows that the fragrance industry is keen to pursue education for a new generation of perfumers. It would also be great to see more opportunities for small sessions like this one day workshop where interested individuals or those already working in other roles in the industry could explore the topic.
A perfumery career is a huge commitment and exploratory sessions which cover the serious aspects of the day-to-day work of a perfumer could help someone decide if this is the right path for them and act as a way for the industry to vet incoming talent.
Pia Long is a regular contributor for Perfumer & Flavorist and a fragrance enthusiast. You can read her column, The Juice, each month in the print issue as she explores various realms of the fragrance industry. Visit her blog and Twitter to learn more.