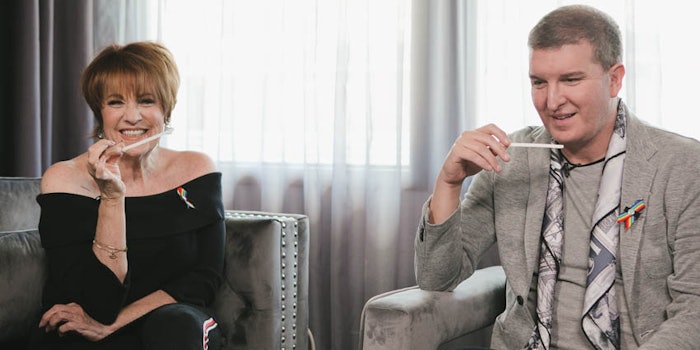 Last June, it was announced that Vincenzo (Vince) Spinnato, cosmetic chemist and president/CEO of TurnKey Beauty, Inc., was tapped by Lorna Luft, Liza Minnelli and The Judy Garland Heirs Trust to develop a fine fragrance in honor of Judy Garland.
Spinnato boasts nearly three decades of experience in the personal care, cosmetic and fine fragrance industries. Spinnato has formulated and developed hundreds of products for skin and hair care, color cosmetics, bath & body and fine fragrances as well as baby products and pet products.
Perfumer & Flavorist+ connected with the accomplished cosmetic chemist to discuss the recent launch of the Judy Garland fragrance "JUDY," project wins and much more.
Related: TurnKey Beauty, Inc. to Create Judy Garland Fragrance
Perfumer & Flavorist+ [P&F+]: What has the experience been like creating JUDY? 
I am a big personal fan of Judy Garland. To develop a fragrance for her with Lorna and Liza is beyond the rainbow for me. My goal is to respect Judy Garland's memory, help preserve her legacy and hopefully introduce her to a new generation of fans with this fragrance.
P&F+: Any details you can share about the formulation process? 
I am working closely with the Judy Garland family. Meticulous attention and detail is being made to not only the fragrance, but to bottling, packaging and design and so much more. The three scents currently under consideration have been created with a 'modern twist' to include things like favorite fragrances Ms. Garland used to wear as well as scents she liked in general. In addition, the Judy Garland Rose will be incorporated in some capacity to the final fragrance.
P&F+: You're no stranger to creating signature fragrances and produces for stars, where do you find yourself drawing inspiration from for high-profile clients? 
The main thing is to really do a deep dive into each celebrity I could be working with, and really understand their personalities (likes and dislikes), and even their public persona. Then at that point I can begin to create a product line or fragrance around all those attributes. 
P&F+: Are there any particular project wins or products you're particularly fond of? Or has an interesting back story? 
Believe it or not, the one I am most fond of is a natural OTC topical hemorrhoid product called TUSH MD that I developed many years ago for a colon-rectal surgeon out of Las Vegas. The reason I am so very proud of this product is that it performed so well that the doctor patients began to cancel their colon surgeries after using the product for a couple of weeks first in advance clearing up their condition. It is a great feeling to be able to help people's medical conditions, in addition to just beautifying sometimes... and that for sure is "an interesting back story."
P&F+: Could you share some advice for beginning perfumers?
You can get a college degree in chemistry, complete a graduate degree in perfumery, or you can work your way up through a cosmetic or perfume company. Whatever path you choose to take, you will need a combination of hard work, skill and creativity to become a master perfumer. Another option is to attend a specialized perfumer course (such as those offered by large fragrance houses), and pursue further specialized training.
P&F+: What are some valuable lessons you learned along the way? 
The best lessons I learned while training in perfumery is to experience as many scents as possible and build up your sent vocabulary. Purchase or borrow as many samples from good reputable suppliers as possible to know what the "real thing" smells like. Take good notes, smell, take more notes, a smell, and smell, and smell again until you build a wide range scent library in your sensory.
P&F+: Can you share any future plans or current projects you're working on? 
On the heels of Ms. Judy Garland's fragrance, I am in negotiations with two other highly recognizable Hollywood legends estates for future fragrance projects. 
P&F+: Finally, if you could describe yourself with three ingredients, what would they be and why?
Rosewood: Because it has a soft (Rose), and strong (Wood), side to it such as I do.  
Cocoa/Chocolate: Because they can be bittersweet, which I've been told from time to time 
Fresh scents that perfectly mimic the ocean or ocean breeze which we call fantasy ingredients. I love to spend time by the water, I prefer to be in the water than on land.