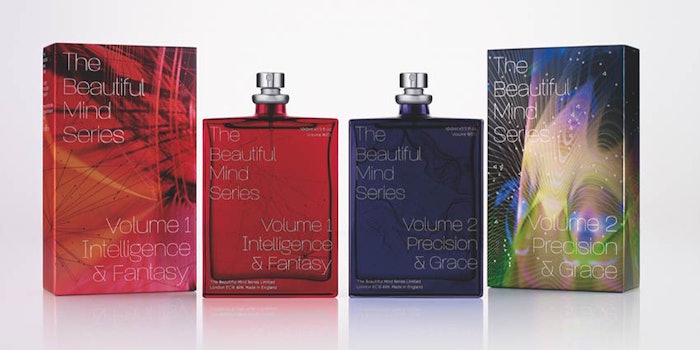 Geza Schoen perfumer and founder of Escentric Molecules has announced the launch of the Beautiful Mind Series, a fragrance line he co-created with creative, intelligent women in protest of mindless celebrity scents.
Volume 1: Intelligence & Fantasy: Collaboration with Christiane Stenger, the world's youngest ever memory grandmaster.
The process began with Stenger coming to Berlin to immerse herself in an intensive fragrance education at Schoen's laboratory. For Schoen, it was "amazing to watch [Stenger] use her extraordinary memory skills while we were working with the raw materials."
Stenger uses a memory technique that involves creating a picture for each memory, the more fantastical, the better. She said, "When [Schoen] gave me something to smell, a picture would form in my mind...the ocean...a plant…a fantasy animal. My method worked particularly well with fragrance because it's hard to describe smells in words."'
"When I first saw [Stenger] on the cover of a science magazine, I thought, 'here's a woman who is doing something amazing with her brain,'" Schoen said. "Why not create a scent with someone like this?"
Volume 2: Precision & Grace: Collaboration with Polina Semionova, the world-renowned classical ballet dancer.
"I was fascinated by what goes on in the mind of a great dancer while she's dancing, [and] the precision she must have to express the grace," Schoen said.
Precision & Grace took two years to create, due to the demands of Semionova's schedule, dancing all over the world.
"When you first smell Precision & Grace it's like a breeze, so light and feminine, but then there is this unusual note that I love, the Peruvian pepper," Seminova said. "This adds something deeper that gives a core of strength to the fragrance. It's like the ballet itself: without the hidden strength, you can't make it light."
Design of the bottle
The imagery for the series depicts the beauty of the brain in action. Instead of the faces of Stenger and Seminova, the packaging features neural pathways in the brain. These are imaginative representations of synapses connecting during memory retrieval and of the kinesthetic intelligence of the dancer.