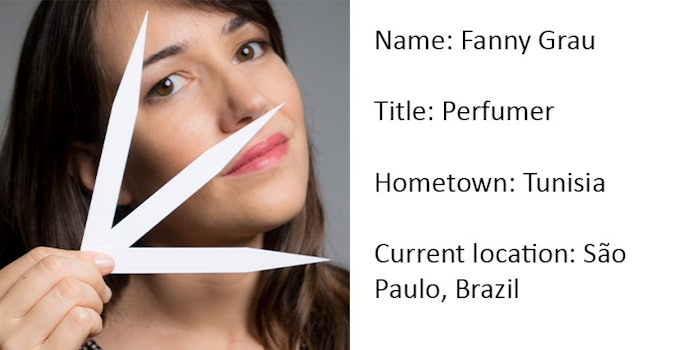 Perfumer & Flavorist+ [P&F+]: What led you to the fragrance industry?
Fanny Grau [FG]: Growing up in Tunisia has constantly stimulated my sense of smell. While I grew up I continued to "follow my nose" and studied chemistry. This way I could search for new olfactive molecules. Having succeeded in this I made my way toward the fragrance industry and received the opportunity to for perfumer training.
P&F+: Where do you find inspiration?
FG: I find inspiration in everything around me—nature, my kids, food, music, art, pottery, travels. There are no limits.
P&F+: Are there any local ingredients that inspire you?
FG: I love Brazilian fruits. I find them amazing and they are relatively unknown in the rest of the world: They offer so much variety and so much to discover. Jabuticaba, caju, cupuaçu and graviola belong to my many favorites!
P&F+: Do you have any favorite ingredients to work with? Why?
FG: I love to work with olibanum [frankincense] and sandalwood. They accompany me as meditation partners and I also use them a lot in my creations to add depth and mysterious facets.
P&F+: How has COVID affected your day to day as a perfumer?
FG: I actually caught COVID and lost my sense of smell for about a month. Not exactly ideal in our line of work. Luckily, I was able to continue working by using my "olfactive memory!"
Things are more or less back to "normal" now, apart from the fact that schools are still closed here in Brazil so I am working remotely to keep an eye on my kids.