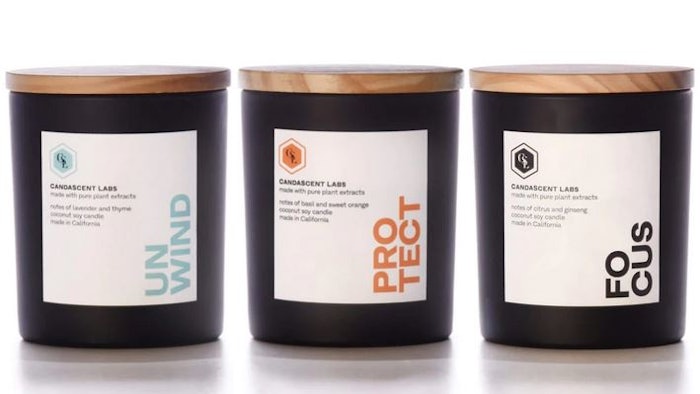 CandaScent Labs is reportedly the first candle brand to feature beta-caryophyllene at the center of its formulation philosophy. Each of their 100% botanically derived candles is formulated to be rich in this plant extract.
Related: [Update] What's New in CBD-Infused Fragrances
Beta-caryophyllene is an aromatic molecule that is measured in high levels in the essential oils of black pepper, cloves, hops, rosemary and cannabis. Its effects are mediated through the olfactory system, making it suited for aromatic applications. Beta-caryophyllene is unique in that it shares some of the properties of cannabinoids like CBD; it is the only known aromatic molecule in the botanical world that is known to interact with the CB2 receptors, part of our endocannabinoid system (ECS).
All of CandaScent's candles are free of synthetics, paraffins, parabens and phthalates, use certified organic essential oils and 100% plant-derived extracts, are sustainably sourced, vegan and cruelty-free.
The candle line featuring beta-cryophyllene include:
MOJO: Forest bathing candle with notes of balsam, spruce and cypress, as well as niaouli, bay laurel and patchouli.
AMARÉ: Rose and mint candle with rose otto essential oil and notes of osmanthus and peppermint.
UNWIND: Lavender and Thyme Candle with notes of lavender, thyme, rosemary and sage.
FOCUS: Citrus and Ginseng Candle with notes of lemongrass, litsea cubeba, cardamom, ginger and ylang ylang. PROTECT - Basil and Sweet Orange Candle with notes of basil, sweet orange, petitgrain sur fleurs, citrus, marjoram and bay laurel.

The ECS is designed help regulate many of the body's functions, including our immune system, as well as helping to decrease anxiety and stress, reduces inflammation, maintain cognitive functions and sports analgesic (pain-relieving) effects.
Besides its properties as a potent anti-inflammatory, antimicrobial and antioxidant, beta-cryophyllene is also currently being studied as a novel therapeutic tool for inflammation, cardiovascular disorders, cancer, metabolic disorders, neurodegenerative diseases, pain, ATP synthesis, type II diabetes and more.
Want to know everything going on in flavor & fragrance? Sign up for P&F+'s newsletter. You can also follow along on Instagram and LinkedIn.