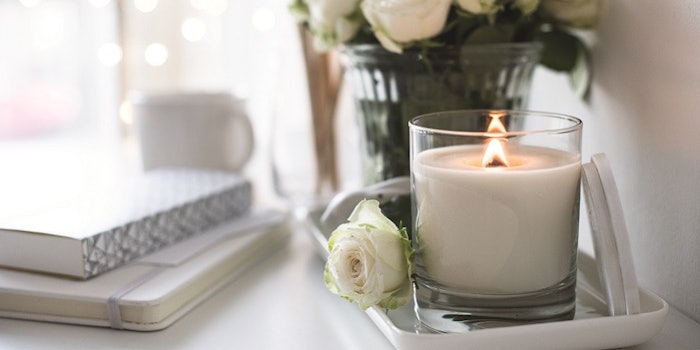 With the introduction of the light bulb in 1879, the candle industry was dwindling. As electricity became more readily available, the need to work or travel by candlelight was no longer required, and subsequently, the demand for candles diminished. Until the 1980s and 1990s, interest in candles was revived due to its decorative appeal in homes.1 No longer in competition with the lightbulb and in its own booming category, the candle market is expected to grow to $11,707.75 million by 2025 with a CAGR of 5.5% between the periodsa. Now in the 21st century, candles are enjoying a second life – one led by fragrance innovation and consumer demands for experiential ambient scenting.
"The audience is not meant to be just one person, but for multiple people to enjoy simultaneously," said Jessica Reichert Weber, perfumer at Premier Specialties, Inc. "Candles, as part of air care, I like to think of as the 'sharing' category. They're made to be shared by everyone [who is] in the house ... I like to imagine that when I make a candle, the consumer is lighting it in their home for their families and friends to enjoy, making their home feel more inviting."
That's So Hygge
However, the idea of candles offering a sense of security and comfort isn't completely lost. Inspired by the Danish/Norwegian word, "hygge" has been growing steadily for the past several years. According to the Collins English Dictionary, hygge refers to "the practice of creating cozy and congenial environments that promote emotional well-being." It's no surprise that scented candles are included in this lifestyle trend, where cozy, warm and ambient lighting are staples.
Scented candles are currently leading the market in air care, as consumers continue to look for ways to create a mood within their environment. In an NPD Group studyb, nearly 80% of U.S. consumer scent their homes, with 50% using home scents because it made them feel "relaxed." The same report has shown that prestige home scents are seeing an accelerated growth with $80.4 million in sales in 2017, a 59% increase over 2016 sales. Candle sales make up the largest portion, accounting for 56% sales.
"Candles can have such a wide range of scents and explore all fragrance types, from food to nature, and even experiences and emotions. I feel that I have more creative freedom to convey a scent through candle than through any other category I work with," said Weber. "Although candle brands may be targeting a specific demographic, their consumers still enjoy a wide range of scents; some consumers want their house to smell like fresh baked cookies, while others want the smell of their house to evoke an emotion, perhaps their honeymoon to Asia.
An Anatomy of a Candle
Similar to fine fragrances, the art of making a candle fragrance comes down to ratios – making sure that all the fragrance ingredients are in the exact proportion. When creating a candle fragrance, special consideration is given to its scent when lit and unlit (cold vs. warm throw), wax type and the fragrance's reaction with a solvent and wax.
"My mentor, Ted Barba, always said, 'Whatever ingredient you have in your formula, it better have a reason for being there.' This is very important when it comes to candles because every individual material is going to burn," said Weber. "I need to be aware if a material doesn't burn well because it may be too light, making the candle smell smoky and unpleasant, or too heavy, making the candle smell weak, like it's not burning at all. It's also important to incorporate other notes to be able to carry through and balance the fragrance. Lastly, I need to make sure that any unnecessary ingredients are removed. Sometimes, a simpler formula will have a greater impact on the character and performance of a fragrance. Less is more."
Scented candles are currently leading the market in air care, as consumers continue to look for ways to create a mood within their environment.
Normally, a candle fragrance is added at a 4-6% concentration, higher than most home care products but lower than an eau de toilette. Since most candle purchases are influenced by the scent of an unlit candle—like a liquid fragrance—it's important a perfumer pay close attention to the top and middle notes for complex formulations. One way to address this is by boosting top notes of citrus, aldehydes and greens and decreasing background notes of musks, woods and amber. For fragrances that, by nature, "lay low" like sandalwoods and musk chemicals, these materials can be halved to allow for more fruity and floral accords to come through. To boost background notes, aldehydes and small amounts of leafy green chemical such as cis-3-hexenol can be added.2
When the fragrance concentration is added to the candle, it needs to be soluble in the molten wax blend. One issue that might occur when adding a fragrance to the wax is discoloration. Sweet aroma chemicals, like maltol and vanillin, can discolor a product and even affect metal wicks in the candle.2 If discoloration does occur, the fragrance formulation will have to be reformulated to remove those items. In addition to discoloration, the solvent for the fragrance must be compatible with the wax. Some of the widely used solvents for candles are DEP, dioctyl adipate, Hercolyn D, benzyl benzoate, isopropyl myristate, IsoPar, NorPar and carpric/caprylic triglycerides are options. Testing the solvents with the fragrance oil and the candle base is the best way of determining the best performance.3
Another issue to consider in candle fragrance creation is the type of wax. Paraffin waxes derived from petroleum, coal and oil shade are still widely used, but recent attention has been placed on soy-based candles. Since soy waxes are naturally sourced, consumers gravitate to these candles for its biodegradable and eco-friendly benefits. However, soy waxes also come with its own technical considerations. Since soy waxes are made of large, nonvolatile molecules (triglycerides and fatty acids), the wax can trap volatile fragrance components.4 For soy waxes, testing should be done on top note-boosting chemicals and different solvents to find the best fit for the fragrance.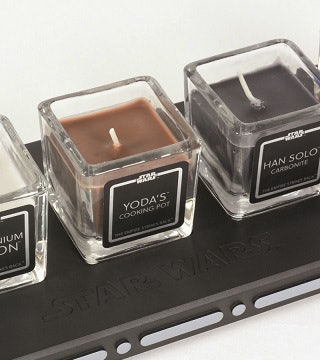 How does a perfumer create the scent of a galaxy far, far away or Westeros? Novelty candles inspired by Game of Thrones to Star Wars are opportunities for brands to stay on the pulse of pop culture while creating unique scent experiences for consumers.
Creating a Moment
In the last several decades, candles have also evolved to serve as scent symbols for cultural institutions and pop culture. Some of the best-selling "Novelty Candles" on Amazon include unique shaped (cactuses, cats, skulls) candle, wine cork candles and even Game of Throne-inspired candles. UK-based Numskull Designs released a collection of candles based on the Star Wars film, featuring scents like Jabba's Palace, Ewok, Lightsaber Duel, Yoda's Cooking Pot and others. While these offer consumers with amusing scents, it leaves the perfumer with a creative challenge. How does a perfumer create the scent of a galaxy far, far away or of the conflict-torn Westeros?
Related: The Scent of Home: From the Bedroom to the Living Room
Whether it's for novelty or enjoying a unique olfactory experience, the tradition of gathering together around candlelight has entered its new phase. One where consumers gather around a candle, not for the necessity of its light, but for its emotive and pleasurable ability to impart scent. These shared, intimate moments are brought to consumers through the work of perfumers and fragrance brands. If the last 30 years are any indication of the future of the candle market, its future will be a bright and adventurous one – filled with compelling fragrances, unique formats and perfumers' ability to innovate and adapt to consumer demands.