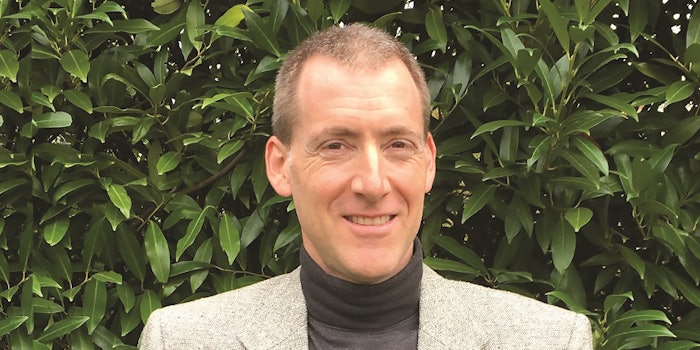 At the 33rd One Day Symposium of the British Society of Perfumers in 2015, then representatives of PFW Aroma Ingredients Division, Paul Hodges and Achille Riviello, gave every table a jar of brains.
A jar with blue jelly brains, scented with one of the demo formulas, in soapy liquid to be exact. This was part of an ambitious "Fragrancestein" session where the idea was to hide a massive skatole overdose using unexpected techniques, and to challenge veteran perfumers' expectations. Instead of run-of-the-mill demonstration formulae presented in typical applications - and "top, middle and base" accords, we were (literally and figuratively) given different parts of the formula not just as handouts, but also as brains in jars, detached legs in little coffins and hearts in keepsake boxes.
Achille Riviello, PhD, was working for PFW as a senior commercial perfumer and global account manager at the time. "We took a big chance with Fragrancestein. The exercise was quite interesting from a creative standpoint—to construct, deconstruct and reconstruct the creative process of the demos—and put yourself out there for judgement by your industry colleagues using something that is clearly not (normally) used in that way," says Achille.
One of Achille's big themes to his work and life in general is: do not take yourself too seriously. "We are in business and our livelihoods are at stake – so of course we take our work seriously. But there is no reason to take ourselves seriously. Have some fun – this is a fun industry!"
Born in the USA
"I was born in the US. My father is half French, half Italian and my mother is American. So, I have both Italian and American nationalities which of course makes it quite advantageous as far as administration goes, working both in the US and Europe," Achille explains.
In fact, he has spent the majority of his professional life in Europe and speaks French, German and a smattering of Dutch. Achille was awarded a PhD in chemical engineering from the University of Oklahoma in 1997 under John Scamehorn. He focussed on the previously under-researched area of paper recycling – elucidating the fundamental surfactant chemistry that affected the practice. The results presented in his dissertation generated the base for 20 years' worth of additional work for his supervisor's research program.
"My entire educational background was extremely Cartesian. I was certainly built to be an engineer at some point—at least a part of me—I always had an interest in chemistry; always had an interest in how things worked. But I had absolutely no idea that the fragrance industry even existed, and I couldn't have told you what a rose smelled like," says Achille. "I think I've worn fragrance once in my life," he says and laughs. "I wasn't very fashion-conscious."
Then he was spotted by someone from a leading fragrance company.
In fact, his entry into the industry was purely serendipitous. "One day I was helping my professor give a short course in surfactant chemistry (where people from the industry came to have an intensive three-day introduction to the topic), and I met someone from Firmenich who realized I could be useful there, to help them work with the soaps and detergents their customers were using."
Surface Tension
The year was 1997 and Achille started as a research chemist in the home care laboratory at Firmenich, in their Princeton, New Jersey location. It was a culture shock and Achille felt completely out of his comfort zone: "I found myself in Firmenich and in the middle of a culture and professional jargon that I didn't understand in the least. After a few weeks I went to my boss, the head of the department, and said, 'Look, I understand nothing that is happening around me. I mean I understand what's happening in the laboratory with the bases, but when people start talking about fragrance I'm lost. I have no clue.'"
Achille asked for some education about fragrance, and about the raw materials his colleagues were using. "The more I understand, the more I can integrate that knowledge, and the better I can contribute to a discussion or to the advancement of a particular issue. So, my boss said okay, that's a good idea and paired me with a long-time Firmenich perfumer Ken Ruocco. All of a sudden, a door opened up to another world that I had never imagined. This whole sensory aspect of chemistry was entirely new to me – and I fell in love."
After only a few months in the company, Achille knew what he wanted to do and asked to be put into the perfumer training program. A year later, he was able to start his perfumery training. He moved to be supervised by master perfumer, Ralph Martin, who pushed Achille further out of his comfort zone than he had ever been pushed before.
"It was extremely difficult for me to break my way of thinking. And, I have to say, I struggled a lot with it. My mentor reproached me several times, very candidly. One time, in particular, we were smelling some aldehydes. I'd dip a material, give him a blotter and take one for myself – and he'd wait for me to describe it. I said it smells waxy; citrus; some floral character – and then said, 'Ah, yes, this is the one with the double bond!'"
"Ralph looked at me and didn't say a thing. He sat back in his chair, put the strip on his desk, crossed his arms, and still didn't say anything for at least five seconds, which of course felt much longer. He looked at me straight in the eye and declared, 'I can't smell a double bond.'"
"That was a big slap on the wrist for me, to stop thinking in such a Cartesian way; to stop trying to analyze like that – and to let go. Understanding the sensory aspect and how you can create could only begin then." Though an understanding of chemistry can be useful to perfumers, Achille found himself effectively having to lock away his chemistry and engineering background for a time, until it was no longer intrusive.
Metamorphosis
Having to learn a new way of thinking also changed Achille as a person. "It certainly made me consider a few things that I hadn't considered before. The sensibilities of other people; the sensory interpretations that are considerably different. Gaining that perspective gave me a different outlook on my interactions with people."
A move to Geneva was on the cards next. "It was another step out of my comfort zone – moving to another country; changing the people you work with; a new language – but it was very good for me," he says.
Achille spent nine years with Firmenich, then moved to drom in Germany, as the lead perfumer in the home care area.
"I was able to spread my wings considerably, and I had a lot of success there," explains Achille. Learning to live his life in yet another new environment and language was a welcome challenge, too. Alas, after a few years, the global economic crash of 2008-2009 hit drom, as it did many businesses at the time. "German employment law is clear in the case of redundancy: it's last in, first out – and I was the last in."
"Of course it was quite a shock. I had seen myself wanting to stay with drom for quite a long time. But that's life. Things happen," says Achille. His approach was analytical and pragmatic – find a way to solve the problem, form a strategy, select, strike.
"I formed a consultancy, which still exists, and got a couple of small consulting gigs. Meanwhile I kept looking, of course, but even with the unemployment benefits I also had to make ends meet however I could. I worked as a janitor in a supermarket for a while and delivered newspapers. Going from a high salary position in a country that is not your own, where you haven't really got a support network… you do what is necessary. I've got no problem doing what needs to be done, so I did a good job as a janitor. It doesn't matter what you do as long as you do a good job and can be proud of the work you have done. It was another good life lesson – hey, you're nothing special."
"You take into consideration the environment, the visual aspects; the feelings – and bring them together."
Achille spent another year in Germany. When his contacts in a US-based company alerted him to an opportunity there, he took it and moved again to the US. "Arylessence specialize in air care, home care, and industrial and institutional fragrances; it's a nice business when you are focused. I was there for about two and a half years and had good success, especially with candle fragrances," he explains. "I also learned a lot working closely with production and purchasing."
Europe felt more like home, though: "I was missing Europe. And that's when an opportunity with PFW/Keva opened up."
Pierre the Perfumer
Achille entered PFW as a creative perfumer and also worked on the promotion of raw materials. "I wound up expanding to a lot of other things, even designing and constructing the perfumery ERP software for Keva with a team of programmers, and working with the regulatory and sales side of things."
One of the important parts of this new chapter was meeting Paul Hodges. "We clicked instantly—despite the fact that I put a big hole in the 2012 WPC stand only three weeks after starting! He is a very creative person and our different styles of creativity came together to push the limits." Pierre the Perfumer was a big part of pushing the limits.
"Pierre was 100% the creation of Paul," explains Achille, "and when I came on, one of the first things we did was to translate some of the presentations to French to give a Pierre show to a group of perfumers in the Fragonard museum in Grasse. Pierre – an animated, featureless mascot – was created by Paul to give the company some personality and to give ingredients some tangible context. Showing people a little animation of "A Day in the Life of a Perfumer," with Pierre as the star, made all the difference. Pierre now also has his own Twitter account, and interacts with clients and the general public in character.
"It really came from that principle that while we're a business, we should have fun, too," says Achille. "From there, we just pushed the limits further and further, putting ourselves and our audiences alike more and more out of our respective comfort zones."
Achille has since been a keen participant in creative presentations of ingredients and fragrances, sometimes working with complex themes – or approaching well-trodden territory in a new way. It seems that having had to learn in the way he did – to cognitively analyze things that for most people are instinctive (but therefore taken for granted), his whole approach to the experience of smelling is fresh.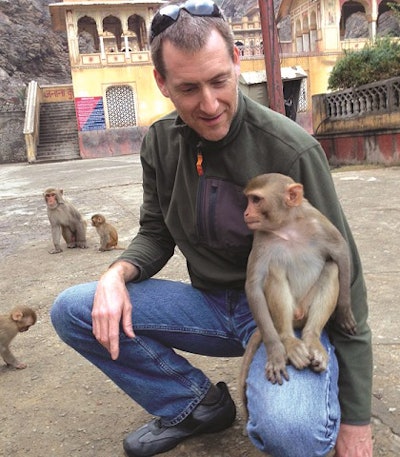 Achille at the Galtaji Temple, the Hindu temple that honors Lord Hanuman and the Sun God, and home to a community of monkeys located in Jaipur, India.
He describes his approach to creation as holistic: "You take into consideration the environment, the visual aspects; the feelings – and bring them together. I enjoy creating an experience; a whole painting of it. Getting to do these kinds of fragrances is fun and challenging because they aren't direct interpretations. You have to get it right, and you have to get your story right."
"One of my mentors in Firmenich, Ken Ruocco, is just a wonderful guy with a breadth of interests. He's since retired, but when I was working on my first rose, he explained to me that you can't make a rose without some dirt. That always stuck with me – it's not just the rose, but everything else around it, too." As the participants of the presentations can attest, Achille and Paul not only approached raw materials differently, but challenged the norm of how perfumers approach familiar materials, shown in their core message: "'Do something different,' was always our goal," he says.
A Clean Slate
Today, Achille is the director of the Synarome fragrance and flavor ingredients business unit in Chartres, France, under the umbrella of Nactis Flavors. It's a role he has only been in for a few months, and he is embracing the challenge of rebuilding the identity of Synarome. "Synarome had very strong brand equity 20, 30 years ago," explains Achille, "and when you talk to the older perfumers, they instantly recognize the name. In fact, when I told my retired friend, ex-IFF and Arylessence perfumer, Bruce Garlick, I was moving to this role – he emailed back: 'Synarome??? They're legendary.'"
"The most important thing is to keep an open mind, to keep learning and challenging ourselves, and to try to have fun with it."
Synarome was founded in 1926. Historically, the company focused on creating specialities, particularly those that mimic nature in some way. One of their most famous bases, Ambrarome, is known to most perfumers as an iconic ingredient. Today, in addition to the specialty creations, Synarome also produces many key, semi-niche raw materials for both fragrances and flavors.
In the summer of 2017, already looking forward to the challenge of reinvigorating the brand, Achille received a call during the interview process. It was the retiring director, Etienne Tarwe, whose Achille is succeeding: "I've got something to tell you. The factory burned down—luckily no injuries. Are you still interested?"
"Of course! Now more than ever," Achille replied.
"There was an opportunity to not only reinvigorate the brand but to reconstruct it literally from the ground up" explains Achille. "This sort of challenge comes once in a lifetime, if you are lucky." So Achille once again left his comfort zone to embrace the new challenge of rebuilding a division.
"The most important thing is to keep an open mind, to keep learning and challenging ourselves, and to try to have fun with it. We should never forget that we are privileged to work in this industry. We don't deal with terrible things; we work with things that are supposed to be good; things that give pleasure. We have truly a lot of luck."
If anyone can see things in a positive light and turn adversity into an advantage, it's Achille. We are sure to see much more from him.