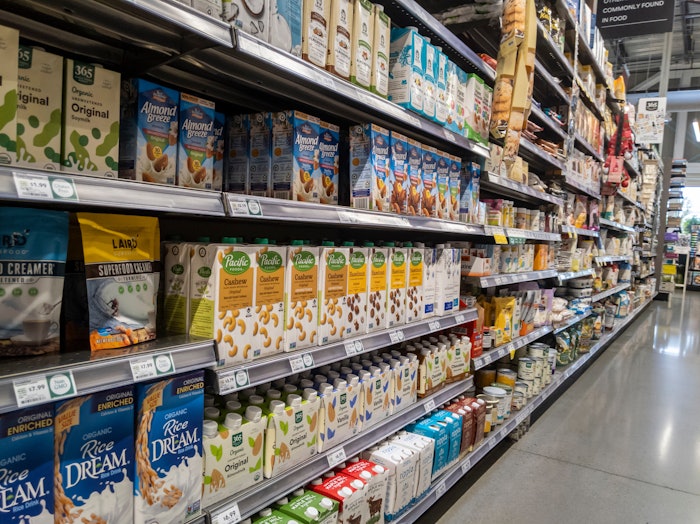 Adobe Stock
As we approach the new year, we've received flavor trend predictions from FlavorSum as well as ADM. The latest to share forecast insights is Whole Foods Market with the release of its predictions of emerging flavors, culinary influences and popular products in 2024.
Top 10 Food Trend Predictions for 2024
Put the "Plant" Back in "Plant-Based": Whole Foods is seeing new and emerging protein-forward products with mushrooms, walnuts, tempeh and legumes in place of complex meat alternatives. Even plant-based milk alternatives are participating, with some brands simplifying labels to just two ingredients.
2. Use the Whole Cacao
3. Buckle Up for Buckwheat
4. Fancy Faux Fish: With tinned fish and caviar taking off earlier this year, it's prime time for the fancy fish trend to dip its fins into the vegan pond. Whole Foods says to watch out for carrots in place of lox, trumpet mushrooms for scallops, and the root vegetable konjac getting its moment in sushi rolls and poke bowls. 
5. Clean & Conserve: Water Stewardship
6. Complex Heat: Specialty varieties like Scorpion Peppers, Guajillo or Hungarian Goathorn Peppers are found fresh, whole, ground or pickled, and a new wave of botana sauces and chili oils are popping up in condiment aisles nationwide. Pepper-infused drinks are going beyond kombuchas, cold-pressed juices and smoothies, with ready-to-drink beverages like canned tepache filling up the fridge with a refreshing kick. Even Tajín is expanding from candies and cocktails to spicing up grocery store sushi, desserts and more.
7. Noodle News: As people seek simple and instant meals, noodles are bringing all the ease and comfort of a warm bowl with quality ingredients and tantalizing flavors.
8. Little Luxuries: TikTok creators have brought "Little Treat Culture" into the zeitgeist, and we're on board. Whole Foods shares that brands are getting in on the trend by considering both cost and format — like individual serving packages that add joy without breaking a budget, and outlets like The Kitchn regularly dish out lists of "Little Luxuries" found for $10 or less. 
9. Women's Health: from Taboo to Top of Mind
10. A Better Boost: Whatever your go-to source of caffeine, there are new ways to get the absolute most out of your morning or afternoon pick-me-up. Combining a boost with benefits has never been easier, thanks to new coffee and energy drinks with added mushrooms, probiotics and more. There's never been a better time to search the "clean caffeine" space for your next obsession.
"Our annual food trends predictions list is a way for us to pull back the curtain for customers and share insight into what our buyers and culinary experts are keeping on their radar for the upcoming year," said Cathy Strange, Ambassador of Food Culture for Whole Foods Market and member of the Trends Council. "From specific product ingredients and flavor trends, to growing movements in the food industry, we can't wait to see these trends gain momentum in the year ahead."