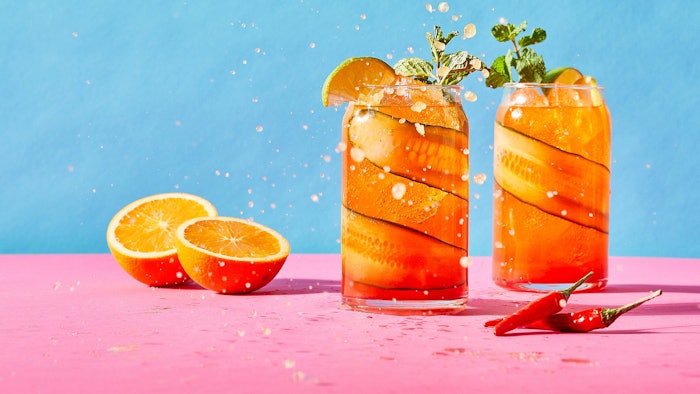 McCormick has released the 22nd edition of its Flavor Forecast. The trend report showcases women in food and flavor, consumer tendencies toward subtle sweets and the pandemic's effect on cooking hobbies. McCormick is celebrating the trend report with its first-ever pop-up experience, Flavor Suite, and a sweepstakes to win a two-night weekend stay at the Omni Berkshire Place.
Related: Report: U.S. Frozen Desserts Market Value
Per the report, sweet flavors are finding new subtle and unexpected combinations, moving away from overly sweet tastes and incorporating other flavors to achieve more balanced results. The report also indicates that consumers are rethinking cooking hobbies because of the COVID-19 pandemic. It suggests that consumers have a stronger appreciation for time and are either investing more time to build flavor or finding shortcuts to spend more time outside of the kitchen.
Food Stories in this year's annual report showcases women in food and flavor, from professional chefs and restaurant operators to the grandmothers passing down recipes.
McCormick partnered with Omni Berkshire Place to create a pop-up hospitality experience inspired by the themes of the 2022 Flavor Forecast, transforming the Rodgers & Hammerstein Suite into a multisensory experience with interactive interior design and flavorful amenities. McCormick is also holding a sweepstakes with a chance to win a two-night weekend stay at the hotel, from May 20, 2022 through May 22, 2022, including one night in the Flavor Suite.
Some of the highlights of the Flavor Suite include textiles and colors inspired by Egypt and India, an ice cream sundae bar available to order via a retro bedside phone, a minibar with cocktails and a king-sized ice cream bed with dessert-inspired bedding, pillow props and a scratch-and-sniff headboard. There is also an edible wall with regional snacks pinned to a world map.
The sweepstakes is available to enter through the McCormick Flavor Maker App through May 10, 2022.
McCormick has also released two limited-edition seasoning blends inspired by the sweetness trend:
Vanilla, Lime & Thyme, which is

bright, citrusy lime and herbal.



Miso Caramel, which features

sweet caramel and the rich, salty umami of miso.



The seasonings are available at shop.mccormick.com.
Jill Pratt, chief marketing officer, McCormick, said, "For over two decades, the world has looked forward to McCormick's Flavor Forecast for the big emerging trends in the culinary world, and we're excited to take it to new heights. The trends identified this year highlight the people, flavors, and ingredients both near and far that are so often overlooked. Through the Flavor Suite, we hope to create not just a fun-filled experience, but also whet an appetite for the world of flavors out there."
Want to know everything going on in flavor & fragrance? Sign up for P&F+'s newsletter. You can also follow along on Instagram and LinkedIn.