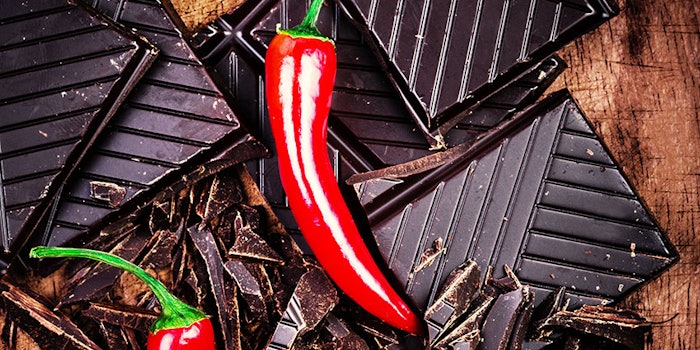 Mars and Wrigley presented bold flavors of over 30 new products at the NCA Sweets and Snacks Expo in Chicago. Playing off of the burgeoning spicy/ethnic and comforting flavor trends, several of the new items incorporate unusual flavor profiles and a certain amount of crossover from more savory flavor trends.
Read on for some standout items in the brands' lineups.
Skittles and Starburst Sweet Heat: The traditional sweet, fruity flavors of these candies will be mingled with a spicy kick for a new take, following industry trends. Individual Skittles flavors include fiery watermelon, blazin' mango, flamin' orange, sizzlin' strawberry and lemon spark, with Starburst picking up the watermelon and orange options along with strawberry mango and pipin' pineapple (Wrigley, December 2017).
Snickers & Hazelnut Bar: The classic Snickers bar, with a nutty hazelnut addition for hazelnut spread lovers (Mars, December 2016).
Extra Mint Chocolate Chip Gum: A returning consumer favorite, this offering features a combination of creamy and cool mint and chocolate flavors (Wrigley, August 2017).
Dove Fruit Dark Chocolate Cherry & Sea Salt Almond: Real cherries and savory almonds headline this snack, joined with the brand's fruit mixed berries dipped in Dove dark chocolate and peanut butter dark chocolate (Mars, December 2016 & April 2017).
Extra Chewy Mints: Texture fans will be drawn to this fresh item with a crispy shell and a chewy inner core, available in peppermint and polar ice flavors (Wrigley, December 2017).
"Our new products deliver on several key industry trends, including focusing on transparency and choice, offering the opportunity to indulge in moderation, and meeting consumers' desire for fun and functional gum and mints, as well as new formats and flavors in chocolate. We're tapping into consumer trends and producing surprising twists and experiences from our most popular brands," said Timothy LeBel, president of sales, Mars Chocolate North America.