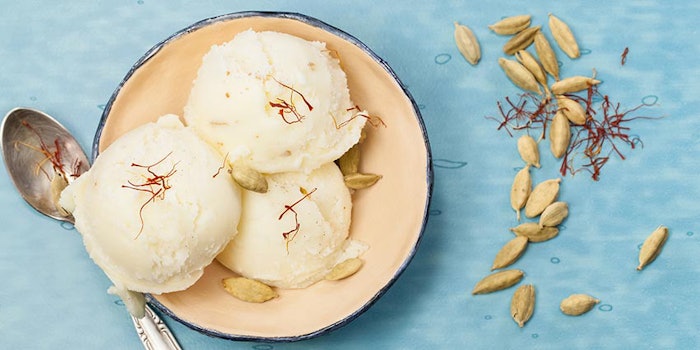 Authentic Middle Eastern flavors have hit the shelves… of the frozen section. Per Mintel's prediction, traditional flavors are cropping up due to their perceived health benefits and sophistication. It's the food categories they are tapping into that are unexpected (via Food Navigator).
A New Kind of Sweet
Savory and eastern-inspired desserts have begun to rise in popularity, appealing to Western preferences. Ice cream and cheesecake have been infused with ingredients such as saffron, rose water and orange blossom, with brands conscientiously limiting sweetness. Flavors and packaging for these items have been designed with a Western viewpoint in mind to be more accessible to European and American customers, even those with adventurous points of view such as millennials.
Darlish is just one company adapting Middle Eastern flavors and recipes for Western desserts. Brand founder Laura Dawson created six flavors of ice cream and three desserts using authentic Iranian ingredients like tahini, pistachio, molasses and pomegranate.
Also joining the fray are savory yogurt options from Sohha Savory Yogurt and grab-and-go drinks in traditional Indian flavors from Paper Boat, using ingredients such as za'atar, sumac and chili powder.
For more information, check out www.foodnavigator.com.