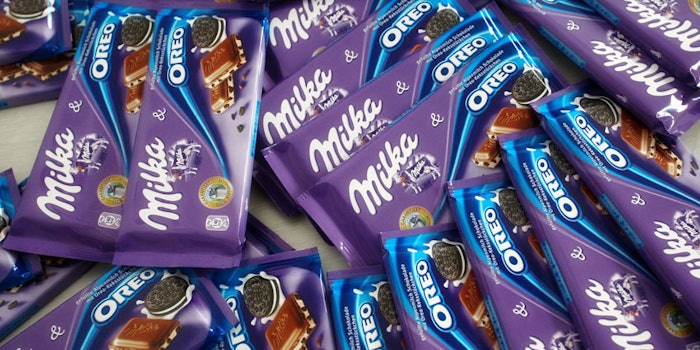 Oreo has already been dubbed "milk's favorite cookie," but now Mondelez International is rendering Oreo as Milka's favorite cookie. The two brands, Oreo and Milka European chocolate candy have been combined into the new Milka Oreo Chocolate Candy Bars.
This new line includes…
The Milka Oreo Big Crunch Chocolate Candy Bar: 10.5oz for $4.99
The Milka Oreo Chocolate Candy Bar: 1.44oz for $0.98, 2.88oz for $1.69 and 3.52oz for $1.79
The Milka Oreo Choco-Mix Snack Mix Bag: 6.1oz for $3.69
With the combination of two extremely popular brands, the success of this new product has the potential to be extremely high. It also has the prospect to introduce consumers in the U.S. to the Milka chocolate brand if they are not yet familiar with the European company.
"Milka Oreo Chocolate Candy Bars are a natural progression for Oreo, especially with Mondelez International's global leadership position in chocolate and Milka being the number one chocolate candy in Europe. The combination of these two global powerhouse brands – both of which are known for their delicious taste – has led to a product line that is unique and truly differentiated in the U.S. chocolate candy category," stated Samantha Greenwood, senior category director, chocolate, North America.
The entire line will be available starting in January of 2017.
The bittersweet buzz of confectionery
There has been a lot of debate over the last few years regarding the effect that sugar has on the body as the industry has been responding with sweet modifiers as diabetes and obesity are on the rise; however, the confectionery segment appears to skip over the sugar-reduction hurdles. Last year, Mondelez International raked in $29.6 billion in sales, which contributes to the projected $76.81 billion by 2021 from the confectionery ingredients market.
For more details visit: www.drugstorenews.com