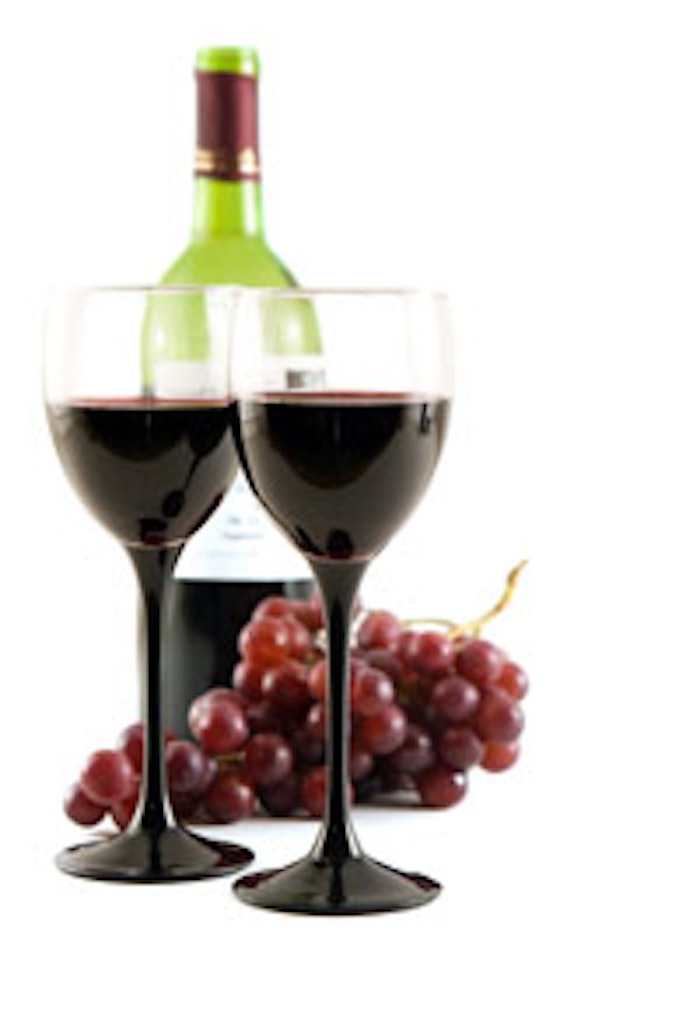 With more manufacturers seeking to differentiate their products in the crowded marketplace, a number have looked to surprising categories for formulation inspiration. For instance, food- and beverage-inspired personal care products have gained much ground in recent years, particularly those incorporating antioxidant-rich ingredients such as superfruits. As the incorporation of new and unique fruits and natural botanicals grows, manufacturers are looking to more unusual categories for inspiration. One concept that is gaining ground is the use of antioxidant-rich wine and wine components in surprising categories such as personal care, non-alcoholic beverages and even food.
Wine for the Body
Moderate wine consumption has been scientifically linked to a variety of health benefits in recent years, and a number of savvy beauty and personal care manufacturers have created products that leverage the beneficial attributes of wine to bring new scents and unique functionalities to these noteworthy products.
In China, Mayllie Red Wine Anti-Aging & Brightening Facial Mask contains antioxidant-rich wine and grape seed extracts. The mask is claimed to deeply melt into skin to stimulate skin tissue activity to help firm skin and protect against aging. In the United States, German hand and foot spa specialist LCN has released a line of foot care products named after its main ingredient: Red Wine Leaf. The luxury wine-scented range offers relief for tired legs and feet. Red Wine Leaf Splash, for instance, is a moisturizing and cooling spray for swollen legs, which immediately absorbs into the skin without leaving an oily film.
Glass Half-full
Red wine, in particular, has received much attention for its purported antiaging functions. Antiaging benefits have been specifically linked to wine's unique component resveratrol, a natural compound that protects against the effects of aging. Several innovative non-alcoholic beverage manufacturers have incorporated wine attributes, such as resveratrol and other grape derivatives into ready-to-drink beverages to offer consumers uniquely flavored products that allow them to enjoy the benefits of wine without the alcohol.
Perhaps one of the most notable non-alcoholic wine-inspired beverages to hit the market recently is PureLeadingBrands' UnWine juice drink. PureBlue Unwine Wild Blueberry Juice is a blend of wild blueberries, merlot, syrah and sauvignon blanc grapes. This juice also has a hint of blackcurrant juice from concentrate. It is fortified with vitamin C and contains more than 600 mg of polyphenols per 250 mL serving. Similarly, in Hong Kong, First Blush recently launched Antioxidant Super Tea Organic White Tea with 100% Pure Chardonnay Juice. This beverage contains a combination of fine wine grapes and organic white tea. According to the manufacturer, the levels of antioxidants found in both fine wine grapes (including resveratrol) and white tea provides nourishing and natural health benefits. This drink contains no added alcohol, sugar or preservatives.
Wine Incorporations in Food
As consumers continue to seek more benefits and sensory experiences from the products they purchase, a number of manufacturers in a variety of categories have recently launched products that uniquely incorporate elements of wine for both its beneficial attributes and its unique flavor varieties.
In the United States, RezVez recently introduced the Winetime Resveratrol Bar, a product that is said to contain more heart-healthy resveratrol than 50 glasses of red wine. Available in a dark chocolate flavor with dates and almonds, it is high in fiber and contains seven superfruits, including cranberry, noni, pomegranate, goji berry, açaí, mangosteen and blueberry. Meanwhile, in Japan, Xylish Grape Sparkling Flavored Gum is said to replicate the taste of sparkling wine.
The incorporation of wine and wine derivatives in unexpected categories provides products with a more premium, novel appeal. Drinking wine is often associated with relaxation and enjoyment, values that further align with many personal care and indulgent food and beverage offerings. As consumers continue to seek more premium products, manufacturers will likely continue to look to unusual segments, such as wine, as sources of inspiration for new and noteworthy formulations that appeal to consumers on multiple sensory and lifestyle levels.
Mintel Global New Products Database (GNPD) tracks new product launches, trends and innovations internationally. For more information, click here or call 1-312-932-0600