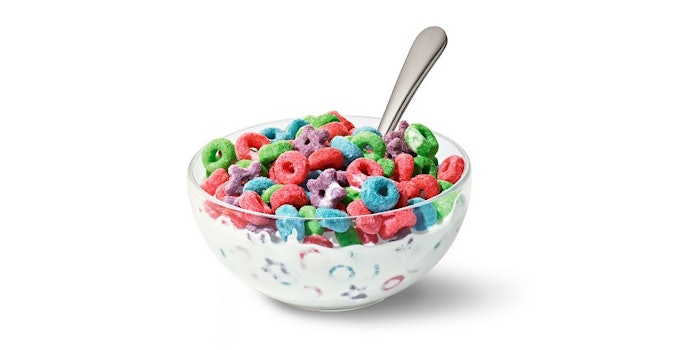 The Kellogg Companya has released its first new Froot Loopsb cereal flavor in 10 years with the release of Wild Berry Froot Loops.
Fruit and Berry Blend
Similar to its original recipe, the product will feature its iconic loop-shaped cereal with the addition of a new star-shaped cereal. Formulated with natural flavors, the cereal will feature a blend of tangy and sweet berry flavors.
"Our colorful loops are both beloved and iconic, and now fans will have a new way to do 'Whatever Froots their Loops' throughout the day," said Teresa Lindsey-Houston, senior marketing director for Kellogg's Morning Foods.
Skipping the Cereal Bowl
The new cereal flavor comes at a time of shifting consumer demands in the cereal market and the larger breakfast food industry. According to Euromonitor, cereal sales in the U.S. have dipped 9% over the past five years, with an additional 5% expected. Increasingly, Consumers are swapping out the cereal bowl for protein bars, fruit bars and on-the-go yogurts, with fewer sugars and typically cleaner labels. With this dynamic, CPGs will be paying close attention to the flavors that they launch, along with innovative ways to brand its products.  
a-b Kellogg and Froot Loops are registered trademarks.