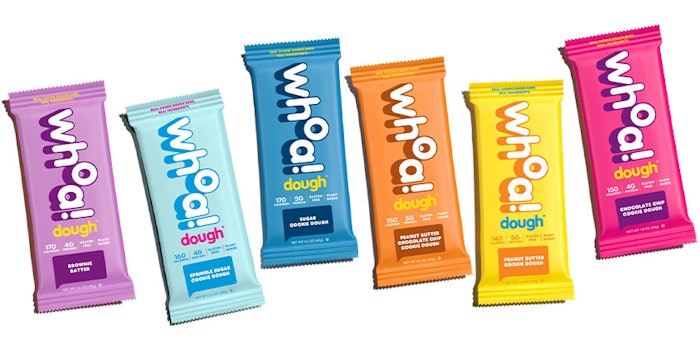 Whoa Dough has announced its newly updated bars with the most requested updates being improved texture, less calories, and allergy-friendly, per FoodDive. 
Related: Black Thunder Releases New Flavored Chocolate
With the newest flavor, Brownie Batter Cookie Dough, the bars have also undergone some modifications to the ingredients and packaging.
The bars are now between 140-170 calories with ingredients that are GFCO Gluten-Free Certified and NON-GMO Project verified. The texture is also said to be more "cookie dough like."
The new formula has been applied to all flavors, with allergen free bar including:
The Sprinkle Sugar Cookie Dough

Sugar Cookie Dough

Classic Chocolate Chip Cookie Dough

Brownie Batter Cookie Dough 
The Peanut Butter Chocolate Chip Cookie Dough and Peanut Butter Cookie Dough are available for those without nut allergies. 
"This new formula brings us even closer to putting that nostalgic cookie baking experience right into a bar. We've enhanced the texture and flavors, without sacrificing our commitment to offering a healthy alternative snack. In fact, this new formula has more nutritional benefits than before with reduced calories and being more inclusive to those with allergies all with clean ingredient" says, Todd Goldstein, founder and CEO of Whoa Dough.