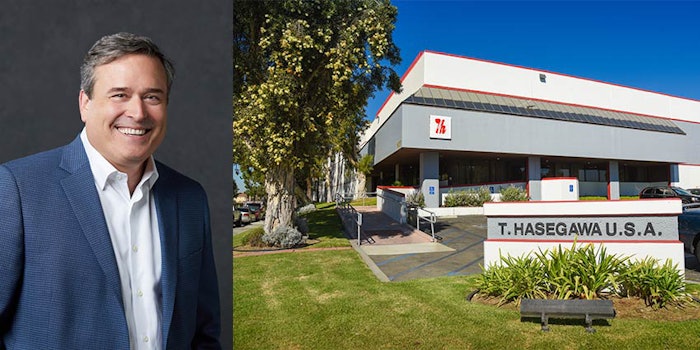 T. Hasegawa USA Inc. has acquired Mission Flavors & Fragrances, Inc. The purchase fits into T. Hasegawa's strategy to broaden its flavor portfolio within dairy, bakery, plant-based alternatives, fruit-filling and confectionery categories.
Previously: T. Hasegawa Appoints Jim Yang Vice President of R&D
Update (January 14, 2021):
In an exclusive interview, Tom Damiano, CEO, T. Hasegawa USA, Inc., tells Perfumer & Flavorist+ (P&F+) about the acquisition strategy and what's next.
P&F+: What key capabilities were gained in the acquisition of Mission Flavors?
Damiano: Our strategy with this acquisition is to broaden our flavor portfolio within dairy, bakery, plant-based alternatives, fruit-filling and confectionary categories.
Mission's library of flavors will enhance our breadth of sweet flavors offered to our customers globally, aligning with consumer demand for flavor solutions which complement our overall flavor portfolio.
This will allow us to penetrate segments of the market in which we have developed world-class technologies like maskers, boosters, enhancers and augmented mouthfeel while strengthening our foothold in the flavor industry.
P&F+: Will the Mission Flavors identity remain?
Damiano: Operations for both companies will continue independently at all three facilities (T. Hasegawa USA in Cerritos and Corona, California, and Mission Flavors in Foothill Ranch, California), with all elements remaining intact. We have no plans to change the Mission Flavors name at this time.
P&F+: What changes can we expect to see moving forward?
Damiano: On a day-to-day, it's business as usual–only now we have new resources and capabilities to accelerate driving value for our customers around the world.
Mission's office and production will remain in Foothill Ranch, California, but we will be able to leverage the innovation and talent across all personnel to enhance our customer experience.
The synergies that are anticipated by this acquisition will increase our expertise in developing superior flavors that "Make Life Taste Better." This commitment is stronger than ever during this exciting time.
Previously:
Domiano noted, "The acquisition of Mission Flavors & Fragrances, Inc. expands our technical capabilities and overall flavor portfolio so we can better serve our customers. We welcome their entire team, which is well known for its customer service excellence and aligns with our customer-centric focus."
"We couldn't find a more perfect partner in joining the T. Hasegawa USA, Inc. team in continued growth and expansion within the U.S. marketplace," said Patrick Imburgia, president, Mission Flavors & Fragrances, Inc. "The collaboration of resources, talent and innovation will be a tremendous recipe for success expanding upon our existing capabilities."
"We know that T. Hasegawa USA, Inc.'s leading-edge technology, flavor modulation, reaction and thermal processing will benefit our customers." Paul Loskutoff, vice president, Mission Flavors & Fragrances, Inc. affirmed, "The approach that T. Hasegawa USA brings to customer responsiveness and order fulfillment is remarkable. I know our customers will benefit from their expertise in supply chain management. The customer-first vision and culture that both companies share through quality, operations, technology and innovation will continue to provide world-class service and capabilities to our valued customers."