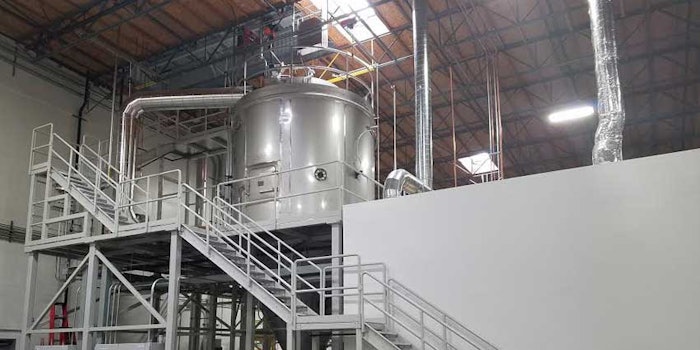 Pictured: Flavor Insights' spray dryer at the Benicia, California facility. Photo courtesy of Flavor Insights.
The creators of Muscle Milk announced the launch of flavor house, Flavor Insights. The company specializes in liquid, powder and spray dry forms of flavor; as well as formulating organic, natural, artificial flavors for clean-labeled food and beverage products.
Flavor Insights is operating out of a 110,000-square-foot production facility in Benicia, California where the company is expected to meet growing consumer demands in both the US and Asia Pacific Market.
"As the founder and creator of CytoSport and Muscle Milk, I experienced first-hand what it means to formulate, develop and market a product that tastes great and is good for you," said Greg Pickett, founder and chairman of Flavor Insights. "When we began looking to the future in 2014, I was enthused by the idea of creating a flavor house that would serve as an innovation partner to entrepreneurs and businesses that value their customers' experience and desire for healthy, enjoyable products."