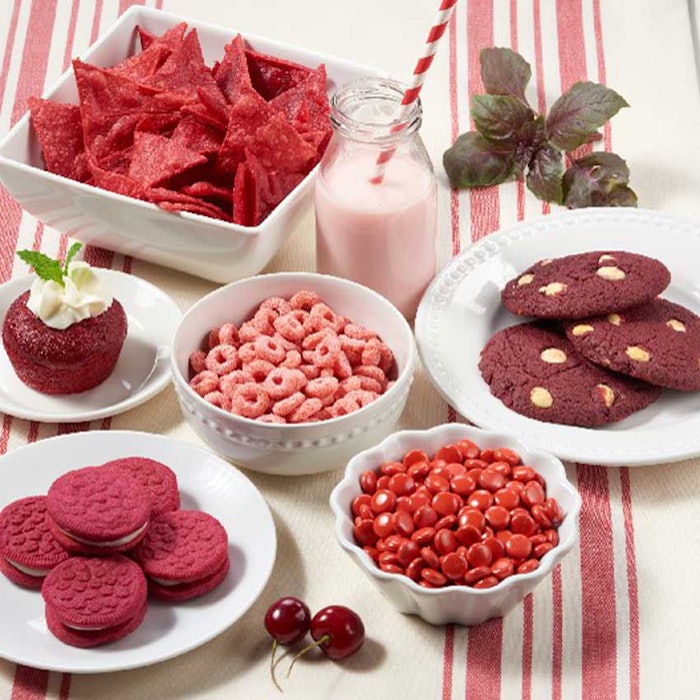 Sensient Colors, a division of Sensient Technologies, announced the launch of SupraRed, a proprietary, heat-stable natural red color for neutral pH baking and dry grocery products.
A natural color technology, SupraRed is derived from botanical sources. As the term "natural" continues to evolve, SupraRed offers consumers ingredients made from vegetable sources while maintaining a bold red color. The color ingredient is free from chemical solvents and can be used in baked goods and dry grocery products; as well as in ultra high temperature (UHT) dairy applications and confections like licorice.
"Closing the gap between synthetic FD&C colors and those from natural sources is a key strategic priority at Sensient. We are committed to providing food and beverage manufacturers with solutions that allow them to complete their conversions to natural colors without having to compromise," stated Michael Geraghty, president of Sensient Colors LLC.
Dry grocery food and baked goods are in the 5-7pH range, but when heated, the levels can rise, changing the color. The heat can cause the red anthocyanin to shift to a purple shade. Although beet was an ideal red source, it would turn brown from the heat. In response to this challenge, SupraRed provides products with a once unachievable heat stability.
"This technical breakthrough in natural color technology means food manufacturers can provide consumers with the bold red velvet baked goods and bright red cereals that they have come to expect. Additionally, because SupraRed typically requires a lower usage rate, it can reduce cost-in-use and provides other unique advantages," explained David Gebhardt, technical director of Sensient Food Colors.