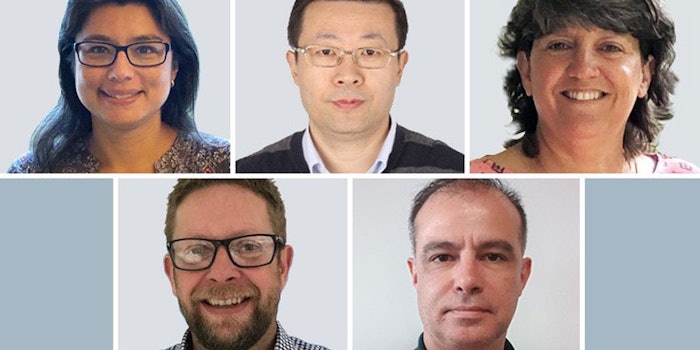 Firmenich has announced its new principal flavorist nominations for 2021, recognizing distinguished service, excellence in creation and sustained contribution to customer success. 
Related: New Beginnings: Interview with Firmenich Creation Vice President Patrick Salord
Principal flavorist distinguishes flavorists who live the Firmenich purpose every day and have shown exceptional achievement in creation, advancement of innovation as well as outstanding leadership. Principal flavorists, now numbering only 20 globally, have also been unanimously recognized by Firmenich customers for their excellence and significant contributions.
The nominations include:
Liliana Favaron (Europe)
Global Savory Team
Savory and Taste Modulation Expert
27 years at Firmenich
Penny Koester (North America)
Sweet Goods and Beverages Team
Vanilla & Brown Notes Expert
29 years at Firmenich
Vincent Li (Northeast Asia)
Sweet Goods & Beverages Team                       
Citrus Expert.
5 years at Firmenich
Andy Matthews (Europe)
Sweet Goods & Beverages Team
Taste Modulation and Tea Expert
13 years at Firmenich
Frederic Zucca (Northeast Asia)
Principal Innovation Flavorist Sweet Goods & Beverages Team
Citrus, Coffee, Tea and Botanicals Expert
11 years at Firmenich
Amaury Roquette, vice president Naturals Platform, Creation and Portfolio, said, "Our creators are pillars of our company and the cornerstones of our industry. At Firmenich, we have always celebrated the essential role our flavorists play and the talent and expertise they bring. Two years ago, we created the new title of principal flavorist to better recognize some of our senior flavorists and their outstanding contributions to our industry."
Patrick Salord, vice president of Creation for the Firmenich's Taste & Beyond division, said, "This focus on developing the next generation of our creation community is an extremely important part of our Firmenich culture. Awarding the principal flavorist title is also a very exciting moment, as it paves the way for many of our future master flavorist nominations."
Emmanuel Butstraen, president, Taste & Beyond, said, "Taste is the catalyst to accelerate the global diet transformation. Our flavorists and creation community are essential enablers of this transformation, by helping to deliver the great taste and overall enjoyment to healthier, more sustainable foods and beverages which will drive positive impact for people and planet. I am extremely proud to be celebrating this years' principal flavorists nominees and wish them tremendous continued success in their careers."
Want to know everything going on in flavor & fragrance? Sign up for P&F+'s newsletter. You can also follow along on Instagram and LinkedIn.