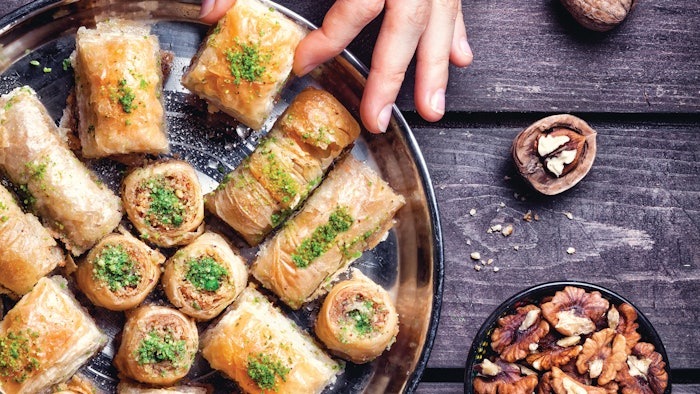 Acetaldehyde ethyl
 

cis-3-hexenyl acetal

Source: Alfrebro (Wild)

FEMA# 3775, CAS# 28069-74-1

Natural occurrence: Guava.

Odor: @ 1%. Green, vegetative, horseradish, ethereal.

Taste: @ 1 ppm. Green vegetative, mild.

Taste: @ 2 ppm. Vegetative, green, earthy, slight creaminess, back-end lift.

Possible applications: There is a green, vegetative, earthy note that would lend itself to radish, green beans, broccoli, cauliflower, horseradish and potentially mushroom. But this also comes across as slightly tropical for guava, mango and potentially for use in strawberry, pear and apple for ripeness.

Alfrebro (Wild): [email protected]
Isoamyl caprylate
Source: Vigon
FEMA# 2080, CAS# 2035-99-6
Natural occurrence: Apple, Asian pear, banana, beer, brandy, (grape, pear, plum) cheese, cider, honey, wine, passionfruit, rum, sherry, tequila, whiskey, wine (litchi, strawberry, grape).
Odor: @ 1%. Fatty, oily, waxy, slightly sweet, fruity, green, apple, pineapple.
Taste: @ 1 ppm. Reminiscent of alcohol, slightly oily, green banana finish, and slightly lifting.
Taste: @ 3 ppm. Waxy mouthfeel, weakly lifting, ethereal, grape, and generic fruity.
Possible applications: All the waxy comments would beg you to use this in waxy fruit, such as apple, pear and pineapple. It's a definite fit for use in alcoholic beverage flavors to help carry that alcohol profile, such as rum, tequila, wine and brandy. There was a suggestion for use in cheeses at low levels for Camembert or Gruyère or Swiss profiles. There is almost a suggestion of woodiness (which also fits with the hard cheeses) to this material, and so perhaps it could be used in stone fruits for the pit notes. There is possible use as a part of a mouthfeel enhancer in low fat foods/matrices.
Vigon: www.vigon.com
For the full article, please check out the Perfumer & Flavorist+ December 2022 issue.