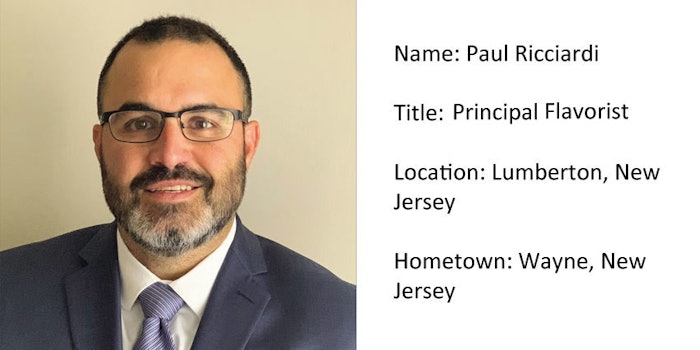 Perfumer & Flavorist+ [P&F+]: Do you have any advice for people coming into the flavor field?
Paul Ricciardi [PR]: My advice is to be patient. There is no direct path to becoming a flavorist. People always ask me how to become a flavorist and I don't have a very good answer. I tell them to start at a flavor company, work hard and get noticed. Hang around the senior flavorists as much as possible. Listen to how they describe what they are tasting to learn their language. Volunteer to help them on projects. I always say that I was lucky to be chosen to get trained as a flavorist. The truth is that my hard work put me in a position to take advantage of opportunities when they came up.
P&F+: How has the job of flavorist changed during your career?
PR: It has changed so much since I started my training over 20 years ago. The flavor industry has become more commoditized. Flavors are no longer this mysterious ingredient that food companies will pay top dollar for. The business has become much more competitive. Regulations have also become much tighter. I used to be able to try and get the flavor right first, then worry about price and regulations. Now, price and regulatory status are almost as important as how the flavor tastes.
P&F+: Are the types of projects you're working on changing over time?
PR: They have changed. As my career has gone on, I have spent less time on new flavor creation. More time is being spent on cost reduction, regulatory compliance and, unfortunately, matching. That being said, I have been creating flavors for certified organic products. Keeping up with the new regulations and sourcing raw materials has been an interesting challenge. It is fun to come up with solutions that allow you to create a great-tasting flavor that can be used in an organic food product.
P&F+: How are the creative demands of the job evolving?
PR: Flavorists are always being challenged to be creative. We need to be creative to make new and exciting flavors. Flavorists need to be creative to make flavors that taste great while being cost-effective and being as "clean" as possible. Another way flavorists are being challenged to be creative is by replacing raw materials. Changing weather conditions, crop disease and even the pandemic have led to many raw material shortages. Now more than ever, flavorists are coming up with creative replacements to several key ingredients to make sure their flavor is available to the customer. This will allow their product to remain on the shelf.
P&F+: Where do you find inspiration?
PR: I find inspiration in all the different foods that I eat. I especially like looking at strange flavor combinations. For example, bacon and vanilla ice cream, mango and chili powder, basil and strawberries, and watermelon and feta cheese. There is a reason why the flavors of these completely different foods go well together. They may taste different, but they still have aroma compounds in common. Let's look at bacon and vanilla ice cream. Both foods have a smoky note as part of their flavor profile. GC-MS data show that both have several phenolic compounds in common. It's my opinion of why bacon and vanilla are compatible with each other. That is where I find a lot of my inspiration.
P&F+: Are there any recent projects/wins you're particularly proud of?
PR: Working at Campbell's I am very proud, and honored even, to be leading the flavor development for one of America's most iconic brands. When I worked for a flavor house, I always had to explain what the company was and did. Everyone knows the Campbell Soup Company, so that is no longer an issue. I have worked there for over three years now and have several products that I have worked on in some way on the shelf. It always brings a smile to my face to see them.