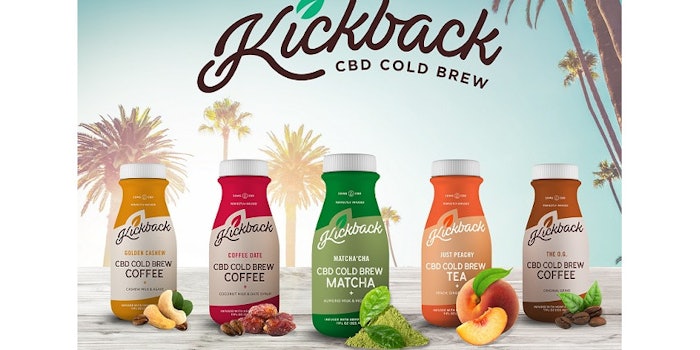 Los Angeles-based Kickback Cold Brew has released its line of cannabidiol (CBD) infused cold brew tea beverages.
"Our team diligently experimented with many different organic teas from across the world before finalizing our new flavors," said Pierre Real, co-founder and CEO of Kickback Cold Brew.
Similar to its original cold brew coffees, the line of teas was created with organic and vegan single-origin ingredients, along with organically extracted CBD. Currently, the cold brew tea comes in Matcha'cha and Just Peachy flavors. The Matcha'cha tea is a matcha-based beverage with almond milk, monk fruit sweetener and CBD, while the Just Peachy flavor is a black tea beverage with peach, ginger and honey.
"While CBD oil works in giving users the 'functional chill' feeling when combined with caffeine, water-soluble CBD's strong miscibility with our cold brews enhances the flavors of our coffee and tea. Organically extracted CBD is here to stay for us and we're proud to be the pioneers of this movement in the industry," said Real.