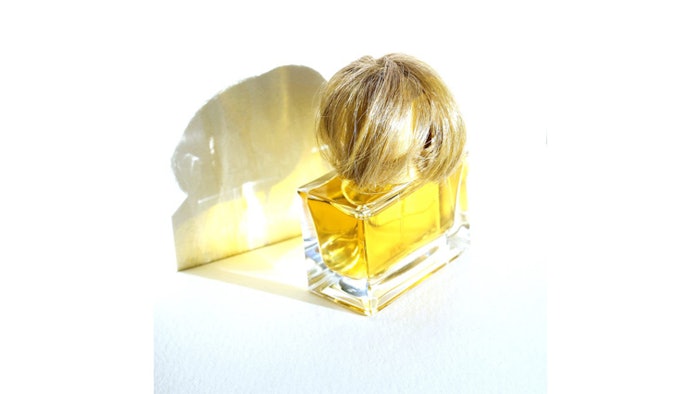 C/O Olfactory Art Keller
At Olfactory Art Keller in New York, Portraits in Scent, an exhibit of art and scent, will close Thursday, October 15.
Related: Olfactory Art Keller Debuts Scent Exhibit for Dogs
Portraits in Scent features subjects who are public figures, fictional characters, self-portraits and intimate portraits of artists' friends and family:
Liz Wendelbo (Xeno)'s "Daphne Oram" portrays the 20th-century synthesizer inventor and thinker through a scent inspired by her hair, ink, celluloid, palm trees and electricity.
Hannah Marcus' "Sad Cypress, No Flowers (a portrait of Ugo Schiff)" is a death portrait of chemist Ugo Schiff, prepared in consideration of his wishes.
George Tedder's "A Shropshire Lad" portrays the melancholic young man from A. E. Housman's eponymous poem with a simple, lugubrious scent.
Anna Novakov's "Healing Agent (a portrait of the artist's great-grandmother" depicts the artist's ancestor, a healer working with plants in a village outside of Novi Sad, Serbia.
Irina Adam's "Scentless Apprentice: Kurt Cobain at MTV unplugged" portraits the late singer at one of the most iconic moments of the 1990s, playing guitar, smoking Winston Lights, wearing a mohair sweater.
Sally Boon Matthews' "King Harold Slain by an Arrow to the Eye" olfactorily recreates the moment of the last crowned Anglo-Saxon English king's death at the Battle of Hastings in 1066.
Naoko Kusunoki's "Andy Warhol" sketches the pop artist who appreciated perfumes as a way to take up more space.
At the core of Aliaksandra Basalayeva's "Neil deGrasse Tyson" is the juxtaposition of the chill and cold of the unknown and the familiar comfort of understanding.
Bee Sampson's "Agnes Sampson" is inspired by the 16th-century Scottish midwife and healer who was burnt at the stake for crafting a charm using a toad to make King James VI infertile.
Alexis Karl and Maria McElroy's "Lillith" is named for Sheila Eggenberger's character of Lillith, the mother of all demons, in her novel Quantum Demonology.
R.B. Wren's "My Mother, Tiremaker" is an olfactory homage to the artist's mother who worked in a rubber factory.
Victor Bartash's "Freedom Isn't Free (portrait of Britney Spears)" reimagines Britney's first perfume "Curious" (by Claude Dir) into a more modern, self-actualized scent in reflection of the icon that Britney is today.
Killian Wells' "Here's Johnny!" is a scent portrait of Jack Torrance (as portrayed by Jack Nicholson) from Stanley Kubrick's film "The Shining".
Chibi Lai's "C. Burchfield" is a portrait of the artist's best friend and love.
Ricardo Ramos' olfactory sculpture "Realness (a portrait of Elektra/Dominique Jackson)" portrays the representative facets of the fictional character Elektra Abundance from the TV series "Pose" as performed by actress Dominique Jackson.
Donna Lipowitz's "Green Cicada (a self-portrait)" portrays the artist at age 5, in the forest, wearing a green dress.
Eva Petric's "Ophelia (a self-portrait)" represents the artist's younger alter ego, jumping into all waters; lonely, troubled, hungry and sated.
Eva Silberknoll's "Purple Pink and Blue (a self-portrait)" is the artist's fragrance self, presented together with its two contradictory yet complementary phenomenal selves.

Janine Hagal

's "April 10th, 1983 12:00 pm EST, Jersey City, NJ (40N44 74W05) (a self-portrait)" is the artist's natal chart scent, based on the planetary placements of the moment of her birth.
Want to know everything going on in flavor & fragrance? Sign up for P&F+'s newsletter. You can also follow along on Instagram and LinkedIn.