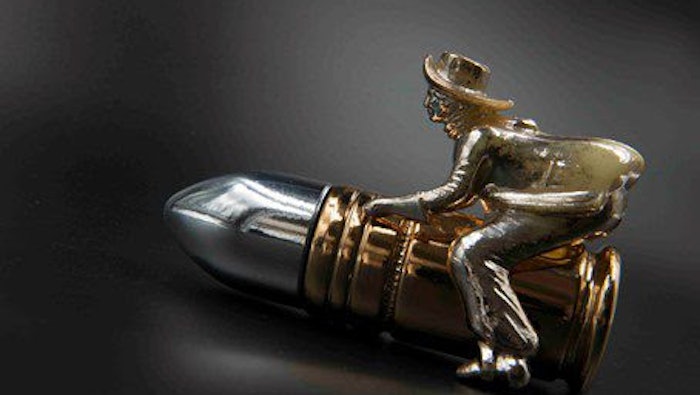 Olfactory Art Keller is presenting a multisensory exhibition by olfactory artist Gayil Nalls, The Politics of Perfume Objects: The Avon Suite. The exhibit consists of eight photographs from The Avon Suite and a new scent, The Smell of George Washington's False Teeth. It will be showcased at the New York City-based olfactory art gallery from February 10 to March 5, 2022.
Related: Olfactory Art Keller Exhibits to Debut at Institute for Art and Olfaction
Nalls previously participated in the New York/New Fumes exhibition at Olfactory Art Keller with a piece titled Emergrance (an Abstraction). Andreas Keller, owner of Olfactory Art Keller, praised the innovative artist for her use of scent in art.
"Working with her is a dream come true for me. Hearing about her World Sensorium back in 2000 was the first time I encountered art that used scents as a material," Keller told Perfumer & Flavorist+.

For her latest exhibition, Nalls uses photographs and arrangements to embody the commodified iconography used to sell synthetic perfumes in a new visual narrative. The art is meant to provoke questions about political iconography in consumerism and the social and economic structures employed when synthetic fragrances were distributed on a mass scale. It also touches on the chemical components contained in the decanters and their environmental and health implications.
Per the artist's comments on the exhibition catalog, the scent complement to the photographs is The Smell of George Washington's False Teeth, an olfactory interpretation of George Washington's exhale as he started his day after his favorite breakfast.
"He wore hand-made dentures which I studied decades ago at the Smithsonian and at the George Washington Masonic National Memorial in Alexandria, Virginia," Nalls said. "They were made of hippopotamus ivory, brass, gold and lead, and included horse, donkey and human teeth."
Nalls continued, "The man who became an American icon had a favorite meal—breakfast. Corn was America's most common crop at the time and its meal was called Indian Meal. Family members have said that hoecakes (cornmeal pancakes) cooked on a griddle and rubbed in beef suet (raw beef fat from the kidney and joints)—were his favorite. They were served on a platter, buttered and drenched in honey or maple syrup. He enjoyed this meal in part because it was easy for him to eat. The scent takes inspiration from this morning meal and the materials of his false teeth."
Next for Olfactory Art Keller is new scented paintings by Brazilian painter Luiza Gottschalk. The exhibition, Glade: To Touch Painting, will run at the olfactory art gallery from March 10th to April 17th. The gallery is also currently planning the Scent Performance Festival for this summer.
Keller added, "The (Glade: To Touch Painting) exhibition is concurrent with her solo exhibition (Clareira) at Brazil's National Museum of the Republic in Brasilia. However, unlike at the National Museum, visitors at Olfactory Art Keller are encouraged to touch the paintings, thereby releasing the scents embedded in the paint."
The Politics of Perfume Objects: The Avon Suite and other olfactory exhibitions can be visited at Olfactory Art Keller at 25 Henry St, New York, NY 10002-6931.
Want to know everything going on in flavor & fragrance? Sign up for P&F+'s newsletter. You can also follow along on Instagram and LinkedIn.