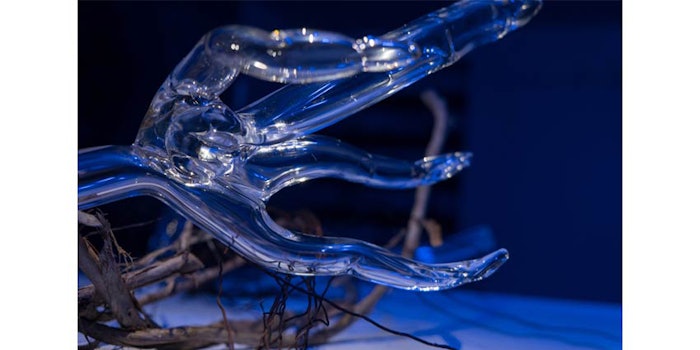 New York gallery, Olfactory Art Keller, announced a new olfactory and sculptural installation for the month of September called Suspension: An Interruption in Time. The project was created by multisensory artist Josely Carvalho for her Diary of Smells.
Related: Perfume Advisory App, O My Note, Utilizes Emotion AI Tech
The gallery is enveloped in a deep blue light and features four smells inserted into blown glass branches, claws and empty nests surrounded by dried vines and hanging in the air.
The smells, Burrow, Incense II, Emptiness and Suspension, encapsulated in crystal beads, were created by the artist in collaboration with Leandro Petit of Givaudan do Brazil.
Burrow is made of dark notes. Incense features forests and tree resin. Emptiness interprets the discomfort of feeling displaced in space and time. Suspension is intended to provide the duality of being cocooned while facing danger and risk.
Throughout the exhibit, there will be multiple events open to the public, including three site-specific smell walks with the artist, where the public is invited to link odor to memory and place by using their nose as a guide to the gallery's surrounding neighborhood of Chinatown. Visitors to the gallery will also be able to participate in Carvalho's ongoing Smell Flasksinstallation.
The events are throughout September and are free and open to the public. Olfactory Art Keller is located at 25 Henry St, New York, NY.
Creator Josely Carvalho says, "We are living in a moment of political, environmental, health and social crisis. The pandemic interrupted the rhythms of daily life, placing us all in a state of suspension. The risk of an invisible virus, political unrest, environmental disasters and racial injustice in both of my countries, the United States and Brazil, led me to find refuge in my garden. I watched wild birds come to eat from the bushes and fly in the open air. I focused on the contours of the tree branches, smelled fresh green after the rain and sniffed the fermented scent of lantana flowers near my window."
Events:
September 1st (4-8 pm EDT): Opening reception 
September 11th (3 pm EDT): Neighborhood Smell Walk with the artist
September 18 (2-4 pm EDT): Meet the Artist and draw with smell crayons at the gallery
October 2nd (2 pm and 4 pm EDT): Neighborhood Smell Walk with the artist* 
October 2 (4-8 pm EDT): Closing reception 
*Pre-registration required, attendees can visit the official Olfactory Art Keller website for more information (www.olfactoryartkeller.com).
Want to know everything going on in flavor & fragrance? Sign up for P&F+'s newsletter. You can also follow along on Instagram and LinkedIn.