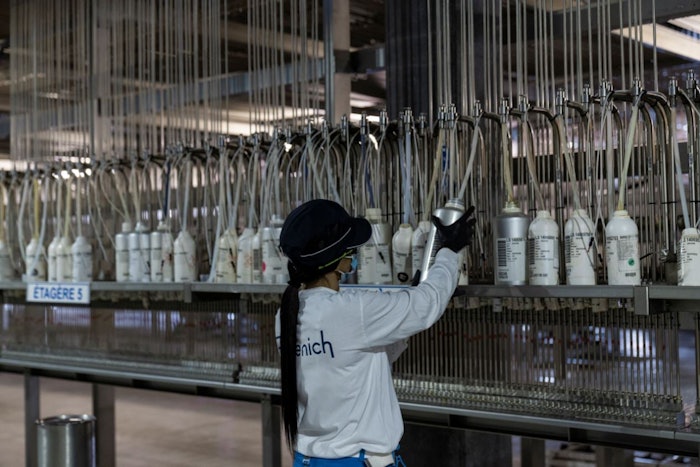 Firmenich Facebook
DSM and Firmenich have announced that the companies have entered into a business combination agreement to establish "DSM-Firmenich." The combination will bring together Firmenich's Perfumery and Taste businesses, its science platforms and associated co-creation capabilities with DSM's Health and Nutrition portfolio and scientific expertise.
Related: Firmenich Establishes Scientific Advisory Board
The new company will have four businesses, Perfumery & Beauty, Food & Beverage/Taste & Beyond, Health, Nutrition & Care, and Animal Nutrition & Health.
DSM-Firmenich's Board of Directors, under Swiss governance, will comprise three nominees from the Firmenich shareholders, seven independent directors from DSM's Supervisory Board, as well as one independent director from the existing Firmenich Board and one new independent member. The DSM-Firmenich Board and leadership roles will include:
• Thomas Leysen, current chairman of the Supervisory Board of DSM, to be appointed chairman of DSM-Firmenich and Patrick Firmenich, currently chairman of Firmenich, to be appointed vice-chairman.
• Geraldine Matchett and Dimitri de Vreeze, currently co-CEOs of DSM, to be appointed co-CEOs of DSM-Firmenich (including CFO and COO responsibilities respectively).
• Emmanuel Butstraen, currently president of Taste & Beyond at Firmenich to be appointed chief integration officer.
DSM-Firmenich will have a dual headquarter in Switzerland (Kaiseraugst) and the Netherlands (Maastricht). With regards to the businesses and research:
• Perfumery & Beauty will be led out of Geneva (CH)
• Food & Beverage / Taste & Beyond will be led out of Delft (NL)
• Health, Nutrition & Care will be led out of Kaiseraugst (CH)
• Animal Nutrition & Health will be led out of Kaiseraugst (CH)
• Perfumery, Ingredients and Taste Research will be led out of Geneva (CH)
• Global biotechnology research and network will be led out of Delft (NL)

Thomas Leysen, chairman of the DSM supervisory board, said, "DSM-Firmenich will bring together leading creativity and cutting-edge science and innovation. Together we will be able to better serve the needs of customers and deliver compelling growth and returns. However, successful mergers require more than complementary capabilities or compelling financials; they not only require balanced governance and a respect of the interests of all stakeholders, but they crucially require shared values. My colleagues and I are convinced we have all of those elements, and it is for this reason that the supervisory board of DSM concluded that this is truly a merger which is in the interest of all stakeholders."
Patrick Firmenich, chairman of Firmenich, said, "The combination of DSM and Firmenich is transformational, and brings together two culturally aligned and iconic businesses, each with over 125 years' heritage of innovation. Our shared purpose and common values, combined with our highly complementary capabilities gives me confidence we can accelerate our growth further through innovation and new creations. I am confident that for all stakeholders of the future DSM-Firmenich business, the most exciting times are still to come."
Geraldine Matchett and Dimitri de Vreeze, co-CEOs of DSM, said, "We are honored to propose the combination of DSM and Firmenich, and the opportunity to bring together 28,000 passionate people with a common commitment to enable our customers to realize their ambitions as we better the health and well-being of people and the planet. Together DSM-Firmenich will enjoy complementary capabilities, including one of the largest creation communities in the industry, enabling us to unlock new opportunities for customers as well as position us to deliver enhanced long-term growth and shareholder value, sustainably. By coming together, we will establish a company where anyone, anywhere in the world, wishing to make a positive impact should aspire to work."
Gilbert Ghostine, CEO of Firmenich, said, "This is the natural next step in Firmenich's evolution. We are excited to build on Firmenich's tradition of entrepreneurial excellence and create a global leader that will be able to bring breakthrough innovation and technologies to our customers, addressing the most pressing needs of consumers. DSM shares our purpose-led values and, like us, creates value for its customers through its science-based approach and pioneering technologies, making a real difference to people and planet. I am excited that the legacy of Firmenich will shape a new industry leader that will innovate for a better world."
Want to know everything going on in flavor & fragrance? Sign up for P&F+'s newsletter. You can also follow along on Instagram and LinkedIn.