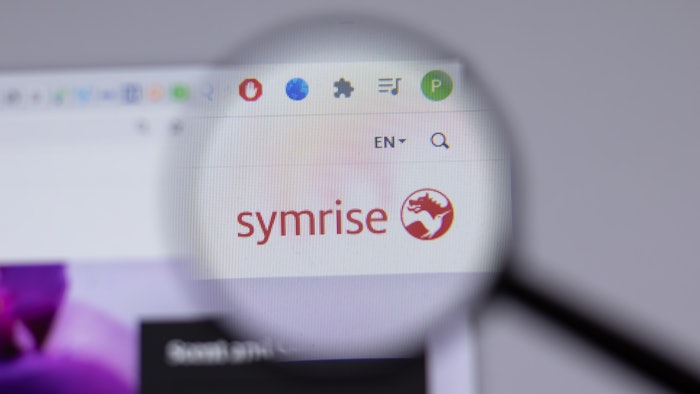 Symrise has released financial results for the fiscal year 2021, with continued profit and growth across all segments.
Related: Symrise to Acquire Wing Pet Food
Highlights of the report include:
Group sales in reporting currency increased by 8.7% to €3,826 million.
Without taking into account portfolio and currency effects, organic growth amounted to 9.6%.
Earnings before interest, taxes, depreciation and amortization (EBITDA) at €814 million were significantly above the prior-year figure of €742 million.
The group maintained profitability at a high level with an EBITDA margin of 21.3%.
Shareholders are to participate in the success of the company with a dividend of € 1.02 for the fiscal year 2021.
Regarding the regions, Latin America recorded the strongest organic growth of 13.5%, followed by Asia/Pacific with 10.3%. The regions EAME and North America also delivered very good growth with 8.8% and 8.5% respectively.
Symrise increased net income by €68 million to €375 million.
As of December 31, 2021, net debt including pension and leasing liabilities decreased to €1,964 million, corresponding to a ratio of net debt to EBITDA of 2.4.
The business free cash flow amounted to €486 million. In a year-on-year comparison, the equity ratio rose from 39.8% to 49.0%.

Taste, Nutrition & Health increased sales by 8.5% to €2,335 million.
The Scent & Care segment increased sales in the fiscal year 2021 by 8.9% to €1,491 million.
Symrise continues to target above-market growth and increase average annual sales by 5% to 7% (CAGR).
Profitability is projected to remain at a high level in 2022 with an EBITDA margin of around 21%. Over the medium term until the end of fiscal year 2025, Symrise has a target of achieving an EBITDA margin in the corridor of 20% to 23%.
Heinz Jürgen Bertram, Ph.D., CEO of Symrise AG, said, "2021 was a successful year all round for Symrise. We made good use of the tailwind generated by the global economic recovery and we aligned our sails accordingly. As a consequence, we very successfully continued our course of profitable growth. Additionally, we were also able to realize trailblazing purchases and investments. This allowed us to strategically diversify our know-how and our portfolio, further increase our appeal to customers and differentiate our profile in the market. Since September, Symrise has also been a member of the DAX, Germany's leading index. As a result, our share has continued to gain a higher profile and enhanced appeal, particularly on the international capital markets. Part of our capital market philosophy is for our shareholders to participate in the successful development of Symrise AG. The Executive Board and Supervisory Board therefore propose the twelfth dividend increase in succession in the amount of €1.02 for the year 2021. For the current fiscal year, we confirm our long-term target to achieve an average increase in sales of between 5% and 7% (CAGR) and to exceed market growth. Furthermore, we are once again targeting high profitability for 2022 with an EBITDA margin of around 21%, in spite of the increasing raw materials costs and energy prices."
Want to know everything going on in flavor & fragrance? Sign up for P&F+'s newsletter. You can also follow along on Instagram and LinkedIn.