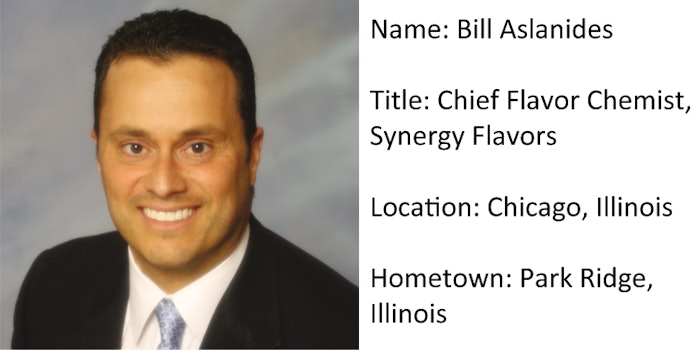 Perfumer & Flavorist+ [P&F+]: What applications do you primarily formulate for? Do you have a favorite?
Bill Aslanides [BA]: I have done a significant amount of beverage flavor and beverage emulsion development throughout my career. I have especially enjoyed working with the alcoholic beverage industry. There are a ton of fun product concepts to taste and a freedom to be daring as a flavorist. Those industries also know how to enjoy themselves.
P&F+: Do you have any advice for people coming into the flavor field?
BA: I tell trainees to make sure to keep busy with all manner of flavor development, regulation, applications, quality and production. Experience in all these arenas is invaluable throughout a career in our industry. I especially stress that getting exposure to all the individual raw materials available to us is of critical importance. Extended time spent in quality control, especially of raw materials, can be a very powerful learning experience.
Getting involved in our industry associations and trade shows is another point I stress. There are so many great people to learn from and befriend. Go to shows, seek out suppliers' offerings, join industry organizations. Making connections will never be a waste of time—you never know with who you may work with or for!
P&F+: How has the job of flavorist changed during your career?
BA: There has been a profound change from simply being a formulator and supplier of flavors to being an application-driven flavor delivery provider. Gone are the days of simply submitting flavors for projects. Customers now, more often than not, desire to see flavors used in near-commercial quality applications whose formulas can then be shared.
Another significant change has been the need to be able to formulate flavors to fit a multitude of regulatory requirements, some of which may actually contradict each other. Keeping track of all the needs of a particular project can be daunting. A strong working relationship with the regulatory department is critical.
P&F+: Are the types of projects you're working on changing over time? How are the creative demands of the job evolving?
BA: Of course. Projects are always changing. Today's consumers are bombarded with more information, and misinformation, than ever before. Projects change to accommodate the resulting needs and desires of the day. From a creative standpoint, everyone always seems to want the "next thing," the thing that nobody else has yet. That desire leads to a flavorist seeking out all manner of new raw materials and processes to be able to have something distinctive and unique.
From a development standpoint, a flavorist also must now contend with factors outside the evaluation of the flavor itself. Regulatory concerns, sustainability issues, food safety, labeling, transportation issues and others must be considered during creation.
P&F+: What is the best part of your job?
BA: I especially enjoy the evaluation of raw materials, both new and old. The ability to smell and taste, then decide what you value, what you want to use immediately, what you want to dispose of—the whole evaluation process—is a fun time for me. When those boxes arrive from our supplier partners, and you open that package and cut open the bubble wrap and pull out that bottle and take a sniff.
I also enjoy opportunities of getting together with customer partners and showing them how flavors work, doing demonstrations and being part of the feedback with them. It is a terrific experience. I have often described it as a "grown-up show and tell." It's really amazing to see people's expressions when we explain what is happening and what they are tasting.