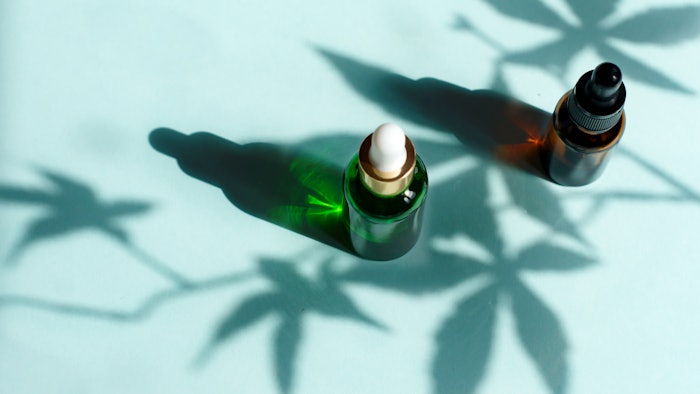 A data report from Meticulous Research on the global CBD-infused products market indicates that it will reach $216.8 billion by 2028, growing at a 45.6% CAGR during the forecast period.
Related Report: CBD-Infused Beverages Market Growth
From CBD perfumes to hemp-infused skin care, there are plenty of reasons to celebrate 4/20. Take a look at some of the most recent CBD fragrance launches.
Kushed Candles is a newly debuting fragrance brand with a line of essential oils and candles that are all crafted with hemp extract. The hemp aroma is intended to be therapeutic and relieve stress. The candle collection includes:
Queen Green offers notes of ylang-ylang, rosewood, Mandarin and fresh-cut hemp.
Totally Zen is made with cedar elm, eucalyptus, oakmoss and cannabis, with notes of mint and black bark.
Lemon Drop features notes of sage, lemon, lime, cedarwood, basil and fresh-cut hemp.
Lavender Kush has notes of peonies, fern, violet, clary sage and hemp.
Cream Caramel features notes of Moroccan coffee, caramel, cardamom, vanilla and sugar musk.
California Dream includes notes of chocolate, mint, anise, juniper, tuberose, patchouli and hemp.
Creamsicle Kush offers notes of Mandarin, vanilla bean and hemp.
Tangerine Dream has notes of tangerine, clove bud, ginger, cassia, and fresh-cut hemp.
Panama Red offers notes of mangosteen, bergamot and neroli.
White Witch features notes of jasmine, honeysuckle, amber and fresh-cut hemp.
Sadhu has notes of sandalwood, Indian musk, plumeria, rose, frankincense and hemp.
Coast added eight flavors to its collection of organic CBD and CBG herbal smoke wraps. The new flavors are Cherry, Berry, Grape, Lemon and Pineapple, adding to its classic flavors of Menthol, Original and Zero. Each pack contains 2000 mg of CBD and 400 mg of CBG.
CandaScent Labs is reportedly the first candle brand to feature beta-caryophyllene at the center of its formulation philosophy. Beta-caryophyllene is an aromatic molecule that is measured in high levels in the essential oils of black pepper, cloves, hops, rosemary and cannabis. The candle line featuring beta-caryophyllene includes:
MOJO: forest bathing candle with notes of balsam, spruce and cypress, as well as niaouli, bay laurel and patchouli.
AMARÉ: rose and mint candle with rose otto essential oil and notes of osmanthus and peppermint.
UNWIND: lavender and thyme candle with notes of lavender, thyme, rosemary and sage.
FOCUS: citrus and ginseng candle with notes of lemongrass, litsea cubeba, cardamom, ginger and ylang-ylang.
PROTECT: basil, sweet orange, petitgrain sur fleurs, citrus, marjoram and bay laurel.
Lush has launched the 4:20 perfume and Joints massage bar. Both products contain CBD to promote relaxation and relieve physical tension. The 4:20 perfume has fragrance notes of smoky sandalwood and patchouli. Each 30 ml bottle contains 1000 mg of CBD.
Soul Purpose has launched a CBD fragrance collection that combines the brand's classic fragrances with new elixirs inspired by the earthiness of cannabis and natural herbal elements. The collection includes:
Ganja: cannabis accented with notes of clove buds, earthy patchouli, grass, warm musk and cedar.
Tuberose Musk: a green blend of tuberose, bergamot, amber and vanilla, with base notes of buttercream, allspice berries, oakmoss and cedar.
Lovely Day: a tropical blend of citrus notes with grapefruit, magnolia and gardenia.
Haitian Vetivert Pepper: notes of mango, coffee, nutmeg and cardamom.
Heavenly: a fruity fragrance with notes of sandalwood, patchouli, peach, melon, caramel, chocolate, honey and vanilla.
Desire: notes of pomegranate with raspberry, plum, frankincense and patchouli.
Want to know everything going on in flavor & fragrance? Sign up for P&F+'s newsletter. You can also follow along on Instagram and LinkedIn.