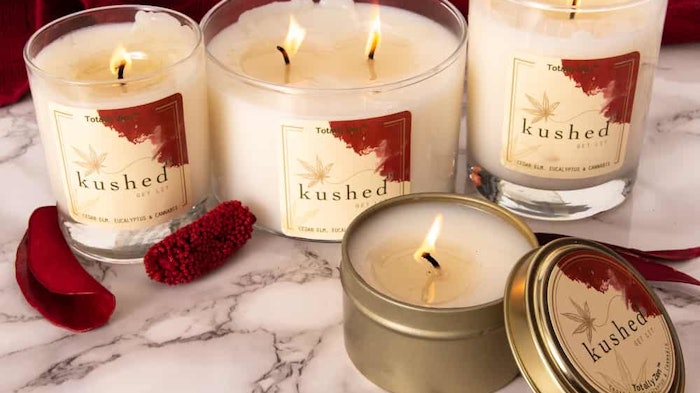 Kushed Candles is a newly debuting fragrance brand with a line of essential oils and candles that are all crafted with hemp extract. The hemp aroma is intended to be therapeutic and relieve stress. Kushed Candles currently offers several collections of candles and essential oils, including QueenGreen, Totally Zen and Lemon Drop.
Related: Confessions of a Rebel Releases Fragrance Bundle
The candles are made from coconut wax and utilize cotton wicks. The hemp is grown in France and contains no psychoactive ingredients.
Queen Green offers notes of ylang-ylang, rosewood, Mandarin and fresh-cut hemp.
Totally Zen is made with cedar elm, eucalyptus, oakmoss and cannabis, with notes of mint and black bark.
Lemon Drop features notes of sage, lemon, lime, cedarwood, basil and fresh-cut hemp.
Lavender Kush has notes of peonies, fern, violet, clary sage and hemp.
Cream Caramel features notes of Moroccan coffee, caramel, cardamom, vanilla and sugar musk.
California Dream includes notes of chocolate, mint, anise, juniper, tuberose, patchouli and hemp.
Creamsicle Kush offers notes of Mandarin, vanilla bean and hemp.
Tangerine Dream has notes of tangerine, clove bud, ginger, cassia, and fresh-cut hemp.
Panama Red offers notes of mangosteen, bergamot and neroli.
White Witch features notes of jasmine, honeysuckle, amber and fresh-cut hemp.
Sadhu has notes of sandalwood, Indian musk, plumeria, wild rose, frankincense and hemp.
The Essential Oil Roll-On Gems feature crystals like amethyst, tiger's eye, rose quartz, fluorite, red jasper and more. Some of the essential oil fragrance offerings include bergamot, clary sage, eucalyptus, lavender, lemon, orange, peppermint, ylang-ylang and tea tree.
Want to know everything going on in flavor & fragrance? Sign up for P&F+'s newsletter. You can also follow along on Instagram and LinkedIn.