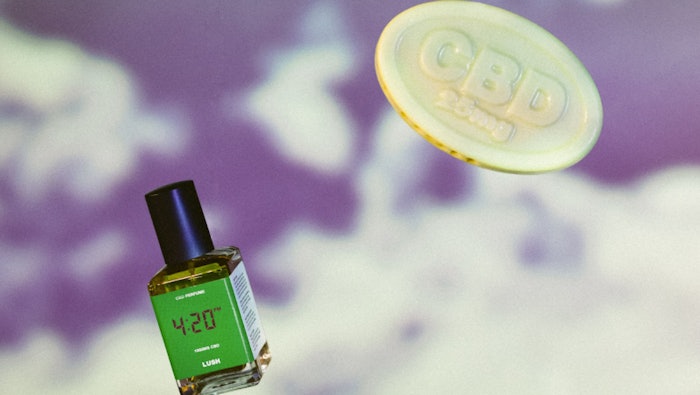 Lush is adding to its CBD offerings with the 4:20 perfume and Joints massage bar. Both products contain CBD to promote relaxation and relieve physical tension.
Related: What's New in CBD-Infused Fragrances
The 4:20 perfume has fragrance notes of smoky sandalwood and patchouli. Each 30 ml bottle contains 1000 mg of CBD.
Lush recommends up to six spritzes of 4:20 perfume per day to remain under the daily recommended limit for CBD usage.
Joints are Lush's first CBD-infused massage bar. Lush recommends using the massage bar throughout the day as needed or after a CBD bath to soothe aches and pains.
Lush's previously launched CBD products are the 4:20 bath bomb and Botanomancy bubble bar.
Mark Constantine Obe, Lush co-founder and product inventor, said, "Patchouli-based perfumes are very popular at Lush. 4.20 p.m. is an oblique reference to both my habit of taking baths at this time or my alternate habit of getting a massage then instead. This fragrance is my favorite and was first put together by Jeff Brown in the early days of Cosmetics to Go. I have fiddled a lot with it since then to get the patchouli olibanum mix to my taste."
Want to know everything going on in flavor & fragrance? Sign up for P&F+'s newsletter. You can also follow along on Instagram and LinkedIn.