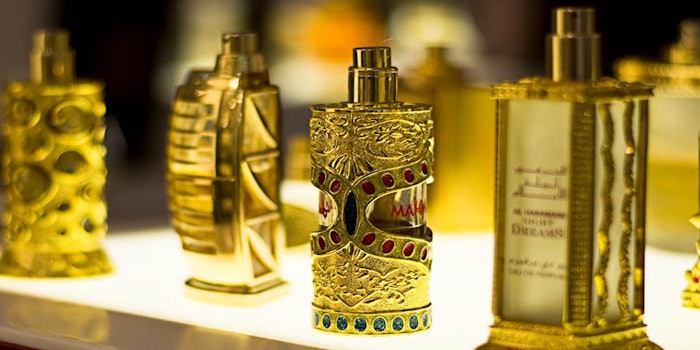 Though considered a part of the Middle East, the Arabian Peninsula exudes a tremendous influence on the essential oil and fragrance market. The region consists of seven countries: Yemen, Oman, Qatar, Bahrain, Kuwait, Saudi Arabia and the United Arab Emirates (UAE), as well as the southern regions of Iraq and Jordan.
Aslan Gülçiçek, MG Gülçiçek International, was invited to speak at the International Federation of Essential Oils and Aroma Trades conference in Dubai on the market dynamics of the region, specifically Dubai.
Ranking fifth in economic flexibility, Dubai is an ideal destination for business, leisure and international trade. Significant changes in socioeconomic structures, including housing and education, have led to the restructuration of the region.
Global market share
The UAE is a global hub of fragrance, Gülçiçek explained. According to Euromoniter, the beauty and wellness market in the UAE is expected to reach $485.5 million by 2018, making up 33% of the global market compared to $401 million in 2014, making up 28% of the global market. On a larger scale, the Middle East and African (MEA) and beauty and wellness market is expected to reach $6.4 billion by 2018, comprising 25.9% of the global market; this is in comparison to $5 billion in 2014, comprising 19.6% of the global market.
Women's buying power, keen olfactory sense and trends
Fragrance is a steadily increasing commodity in the UAE due to its daily use. Consumers spend more on perfume products, which include blended Arabian, oriental and "French-style" perfumes.
Women usually purchase fragrance products as a way to take care of the household, explained Gülçiçek. When it comes to choosing products, consumers over the age of 50 purchase agarwood and other traditional fragrances such as oud, rose and sandalwood. Consumers who are over 40 lean more towards essential oils for the body and incense for clothing. Young consumers are influenced more by price than product.
Though the UAE consumer displayed no considerable knowledge of specific ingredients, they show an astute olfactory sense of popular ingredients such as oud, patchouli, rose and sandalwood. It's speculated that consumers in this region have a better understanding than the rest of the world because fragrance is strongly integrated into daily culture.
Strong scents are popular among products. Fragrances are known to be consumed throughout the day. Niche fragrances exhibit a strong growth due to their luxury and exclusive image. In response to this demand, brands have expanded its lines to reach consumers using native ingredients, such as oud and mukhallats (a mixture of dahn al oudh, rose, musk, sandalwood, amber, etc.).
Challenges and future market prospects
The UAE continues to maintain its position as the hub for fragrance; however, with this comes an increase in competition between local and international companies working to establish a stronghold in the region.  High rent and trade restrictions create hurdles for the market; however, Premium fragrances are expected to expand as the economy continues to evolve as a shopping and travel destination.