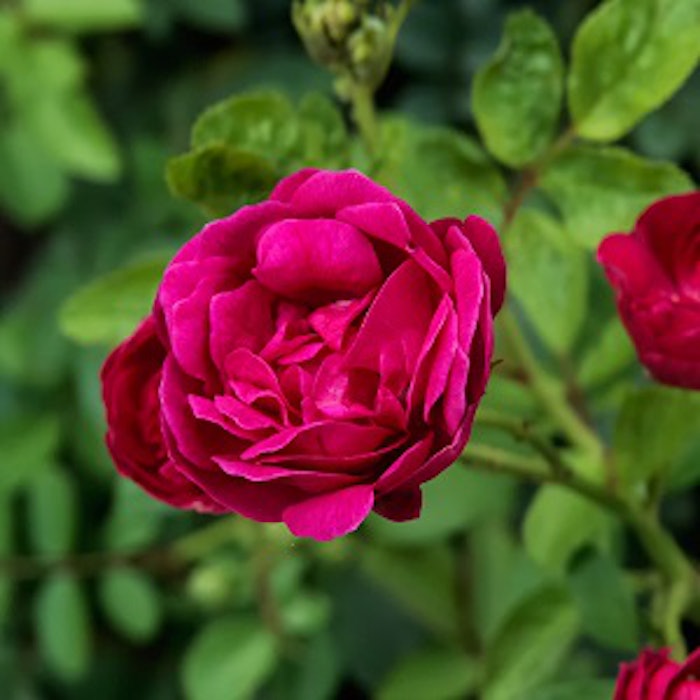 Damask rose (Rosa damascena Mill.) is the most important source of rose products such as rose oil, rose concrete, rose absolute and rose water. These are highly expensive base materials for the fragrance, flavor, cosmetic, pharmaceutical and food industries. Rose oil is used in compounding, to produce the characteristic rose odor with a distinctive fl oral tonality. The total production of rose oil is approximately 5 metric tons, with Bulgaria and Turkey being the major producers followed by Morocco, Egypt, China, Russia, Iran and India. At present, three species of rose are used for production of rose products of perfumery quality: Rosa damascena, Rosa centifolia L. and Rosa gallica L. Bulgarian rose oil distilled from Rosa damascena is traditionally preferred.
Queen Noor Jehan (sometimes spelled Jahan), of the 16th century reign of the Mughal Empire in India, is widely credited with the discovery of rose oil. She is said to have collected droplets of rose oil from a canal fl owing with rose petals. Today, approximately 2,500–3,000 hectares (ha) of Indian land are dedicated to rose cultivation, including Himachal Pradesh, Kashmir, Pushkar in Rajasthan, Hasayan, Ettah, Kanuj, Ghazipur, Lucknow in Uttar Pradesh, Bihar and some areas in Punjab. The country produces about 200 kg of rose oil and rose attars, in addition to a large quantity of rose water. The highest acreage of Damask rose lies in the Western Himalayan region of the northern plains where the land is ideal for its cultivation.
The literature on the composition of rose oils is vast. Lawrence has published an excellent review on recent studies.1 Rose oils from various parts of India have been the subject of numerous studies, but no detailed chemical composition on rose oil from Kashmir, India has been carried out.2-5 The purpose of this study is to compare rose oil from a pilot plant extraction in Kashmir with a quality Bulgarian rose oil and to discuss the implementation of the commercial cultivation of this crop in the highlands of Kashmir.