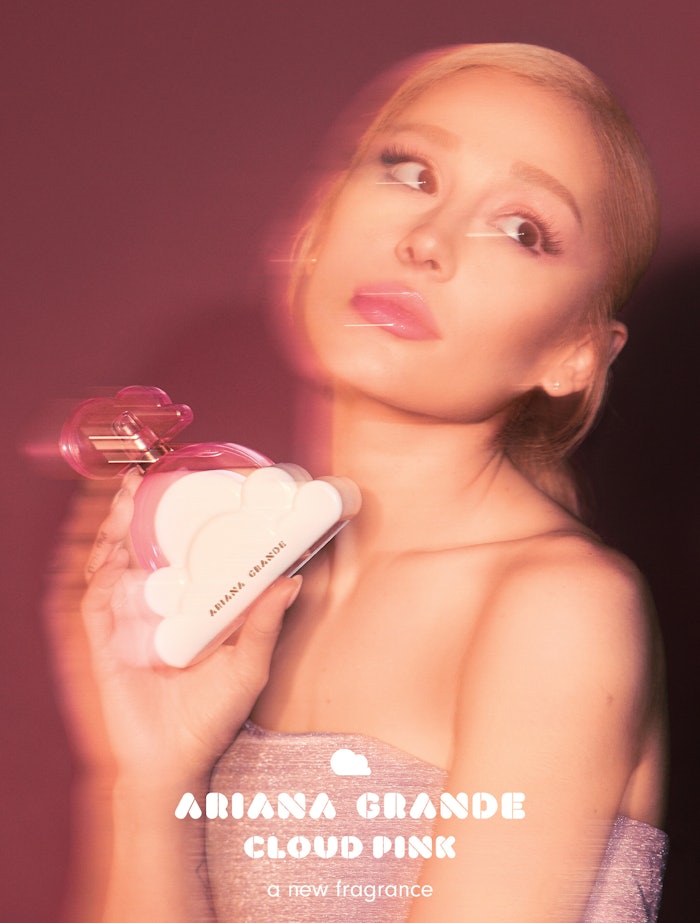 Ariana Grande has launched her newest fragrance, Cloud Pink.
Cloud Pink is a sensual blend of ambery woods, magenta moss and a touch of sweetened praline.
The fragrance features a velvety blend of rich berries and sparkling fruit and a delicate floralcy of vanilla orchid and blush ambrette.
The lasting impression is a warm blend of addictive, skin-sensual musk and amber woods.
The fragrance launches exclusively on Ulta.com on August 13, 2023 and will be available in Ulta Beauty stores nationwide starting August 20, 2023.
Grande said, "I can't begin to describe how excited I am to launch Cloud Pink. Cloud is a fragrance that will always be so close to my heart, and I thank my fans for showing it so much overwhelming love all of these years. Developing a new fragrance under this fan favorite franchise was daunting at first, but I really do think that we've created the perfect sister scent to the original Cloud. It's snuck into my top favorites, as of late. I've been wearing it nonstop these past few months. Working with Clement and the team on this new pillar was a labor of love, and has been such an exciting secret to keep!!!! I couldn't wait for this announcement and I cannot wait for everyone to experience Cloud Pink."
Noreen Dodge, chief marketing and strategy officer of Luxe Brands, said, "With the Cloud brand we continue to see unprecedented demand globally—it has quickly become a cult favorite and has even been noted by industry experts as a modern classic. Cloud Pink is an evolution of the story. Working with an artist like Ariana, she challenges her partners to re-imagine the convergence of scent, design, and storytelling always with the intent to delight her fans. It is this forward-thinking creativity and craftsmanship that continues to redefine the customer's experience."
Tony Bajaj, CEO of Luxe Brands, said, "I continue to be amazed by Ariana's unmatched creative reach, especially with the launch of Cloud Pink. Over time Ariana has curated a range of high-quality fragrances with longevity and broad appeal—establishing a true pillar in the industry. It's a testament to her personalized approach to perfume design. Luxe Brands is honored to once again partner with such an influential icon."