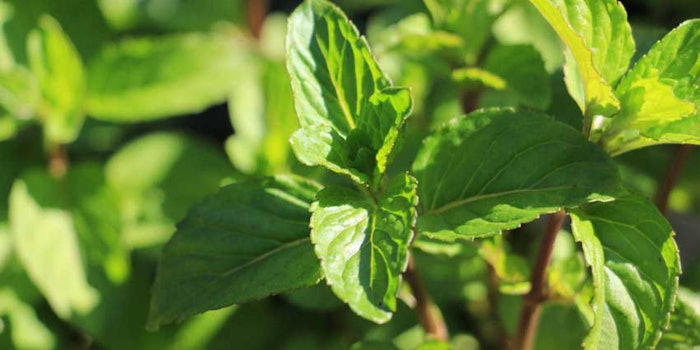 Firmenich now offers Mint Piperita EO Cascade SX 983169, which is an intense, round and full-bodied essential oil, handled by botanical specialists.
This ingredient is designed to enhance both fresh and aromatic herbal notes of hay with hints of lactonic and floral notes. Additionally, this mint material holds moderate menthol content.
Sniffing out Mint
While mint can be used for various flavor enhancements, the herb can also be utilized in perfumery and other fragrances. Mint dates back to ancient times with the Greeks and Romans, the Middle Ages and medieval France, along with other time periods for aromatic purposes.
Currently, naturals and organic ingredients are consistently on the rise and typically a preference—especially for millennials. According to S.C. Varshney, Som Extracts Ltd., natural essential oils are at the forefront of this trend.
"Natural essential oils are not only important building blocks in modern day perfumery, but are also the best sources for blending natural flavors/​fragrances either by direct addition or through their isolates," said Varshney.
To be included in the monthly raw material bulletin (RMB) in the Perfumer & Flavorist magazine, please click here to submit a newly launched ingredient.