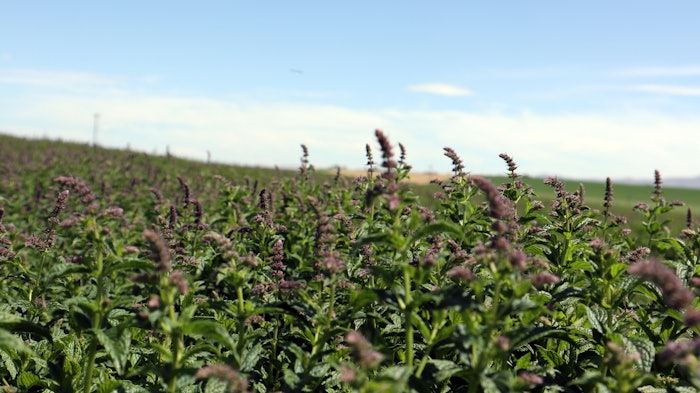 C/O SYMRISE
Symrise's partnership with Norwest Ingredients, and the mint farmers who supply them, has enabled the ability to offer its customers products with mint verified at the gold level of SAI Platform's Farm Sustainability Assessment (FSA). Per Symrise, the currently verified mint accounts for one-third of supplied volume from Norwest Ingredients. 
Related: Symrise Recognized for Commitment to Biodiversity
Norwest Ingredients and the network of farmers were said to have passed a comprehensive review process to obtain the mint verification. In line with the Farm Sustainability Assessment (FSA) criteria, the farms work with proven sustainable practices in areas including water and energy management, soil health, biodiversity and working conditions.
Mark Birch, sustainability director, Business Transformation Group, Symrise, stated, "Together with Norwest Ingredients, we feel delighted about the verification of the peppermint and spearmint supply chain. At Symrise, we continuously work together with our regional partners to optimize our supply chains in a sustainable way. For us, sustainable commitment means demonstrating continuous improvement. This mint verification provides a further example that we are moving on the right path. Partnering with established initiatives like SAI Platform helps us continually improve ourselves."
In the oral care market, mint plays an important role due to its freshness and taste. Per Symrise, recent surveys show that around a fifth of German consumers see sustainable production as one of the most important purchasing criteria for oral care products. 
Nicholas Jon Evans, director, Global Business Development Oral Care, Symrise, shared, "Consumers like mint a lot. That's why it forms one of the most important ingredients for our oral care products. Our verified mint combines the consumer demand for freshness, hygiene and sustainability, and it offers manufacturers opportunities to bring innovative products to the market."
Want to know everything going on in flavor & fragrance? Sign up for P&F+'s newsletter. You can also follow along on Instagram and LinkedIn.