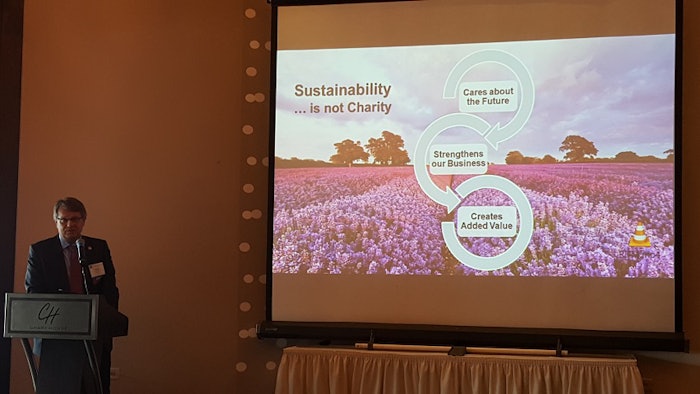 Over a week after Hurricane Irma wrecked havoc over the Caribbean and Southern parts of the United States, the Research Institute of Fragrance Materials (RIFM) annual meeting addressed the impact of natural disasters, sustainability and transparency in the fragrance industry. 
"Environmental disasters are coming nearer," said Symrise's chief sustainability officer, Hans Holger Gliewe, referring to the recent hurricanes which have impacted citrus in Florida and Vanilla in Madagascar, as examples of the extreme weather scenarios of late.   
Also adding to planetary challenges, the world population by 2030 is expected to reach 8.5 billion, which will add further pressure on planetary resources. And "By 2050 only 5% of the world population will find employment in agriculture," he added. 
"Sustainability ... cares about the future, strengthens our business, and creates added value." - Holger Gliewe
For this reason, Gliewe said "we have to explain and demystify the synthetic ingredient" to the consumer. Symrise created the first synthetic vanillin, which he said continues to be a very strong product. "Synthetic materials can reduce greenhouse gases," he added.
Preserving Biodiversity 
With a focus on preserving biodiversity, Gilewe addressed members of RIFM by explaining that synthetic mint/menthol uses much less greenhouse gas pollution than natural mint/menthol. "The Symrise synthetic menthol production process generates 8kg CO2 per kg of yield, whereas the natural menthol production generates 50-100 kg CO2," he said.
In another example, Gliewe explained that science-driven sustainable ingredients reduce environmental impact, use less resources and have reduced downstream impact. Symrise's cosmetic ingredient renewable collection includes passion fruit oil, andiroba oil, Brazil nut oil, buriti fruit oil, murumuru butter, cocoa butter, and cupuacu butter. 
And as far as natural ingredients are concerned, Symrise is focused on biodiversity-driven sustainable ingredients, which he said reflects a "commitment to social and ecological responsibility." This includes transparency, traceability, a secured supply chain and sustainable raw material availability. 
"Sustainability ... cares about the future, strengthens our business, and creates added value," Gliewe said.
For instance, the company is investing in teaching diverse farming practices and providing a yearly income for farmers so they focus on high-quality yields, Gilewe added. It is also promoting initiatives for women in Madagascar and alignment with the 17 UN Sustainable Development Goals, among other initiatives.
"The uniqueness of Symrise vanilla is a clear advantage in quality and supply," said Gliewe. Symrise employs a traditional sourcing model that starts with the smallholder communities. 
"We need to have a long-term commitment to these communities," he added.  Also, "biodiversity has to be protected because it gives us new [ingredients] for our perfumers, new essential oils."