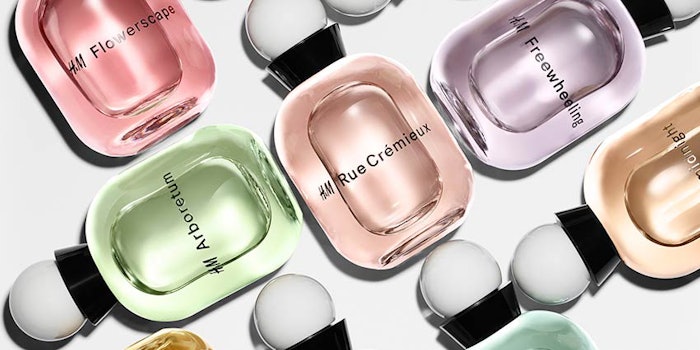 The company famous for making it easy to switch up your look is aiming to do the same with your smell.
H&M has announced the launch of its newest fragrance collection, consisting of 25 different scents divvied up into three groups. Created in collaboration with Givaudan's Olivier Pescheux and Nisrine Grillié, the "wardrobe of fragrances" was designed to complement the company's existing assortment. They include:
The Singles—Consisting of ten different scents revolving around a single note, such as vanilla, chocolate or yuzu
The Reveries—In both eau de toilette and body mist formats, are ten different blended fragrances designed to tell a story or convey a particular feeling, with names such as Freewheeling, Sparks Will Fly and Above the Clouds
The Essences—Five different perfumes with more nuanced and complex blends, centered around a key ingredient such as sandalwood, patchouli or rose (available in both eau de parfum and roll-on perfume oil formats)
"We focused a lot on high quality ingredients, from the single note fragrances to the contemporary blends and the more nuanced perfumes that really highlight the origin of the key ingredient. It has been an honor to collaborate with H&M and alongside my colleague Nisrine for this exciting fragrance collection," said Pescheux.
"Scent has become an important part of fashion and we're so happy to be offering such a wide range of truly unique fragrances with many different notes," said Sara Wallander, concept designer for H&M Beauty. "Customers can play around with the different fragrances across the three groups, to find a scent they love and identify with. It's like building personal style, which is always a fun and exciting journey."