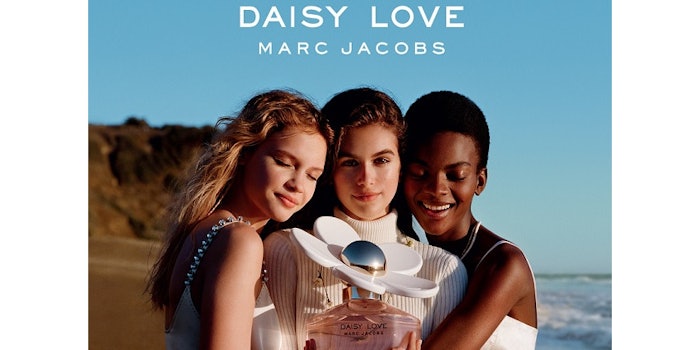 For the first time in over four years, Marc Jacobs International and Marc Jacobs Fragrances, a division of Coty Inc., will be introducing a new fragrance into its Daisy Marc Jacobs franchise.
Created by Firmenich perfumer Alberto Morillas, Daisy Love Marc Jacobs is a feminine gourmand fragrance inspired by the ocean and blue skies. The fragrances include notes of cloudberries, creamy daisy tree petals and a blend of cashmere musks and driftwood.
Daisy Love Marc Jacobs' global advertising campaign features models Kaia Gerber (in a continued partnership with the band), Aube Jolicoeur and Faith Lynch. The print and television campaign was shot by British photographer Alasdair McLellan on the sandy beaches of Ranchos Palos Verde, California.
"This past year we have focused on growing the Daisy franchise to be a major player in the industry," said Simona Cattaneo, CMO of COTY Luxury. "Now, as we continue growing our partnership with Kaia Gerber, is the time to introduce an entirely new sister fragrance into the Daisy franchise. It fits nicely into our strategy as we expand our digital footprint and put an enhanced focus on influencer marketing."