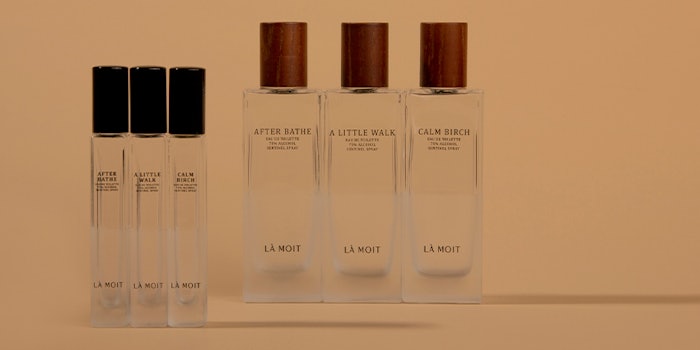 La Moit, a wellness brand with products made in Taiwan, has released three original scents of an Antibacterial Body Perfume.
Related: Anston Singh Launches Internal Affairs Fragrance
The new range combines the functionality of a body perfume with the antibacterial nature of sanitizing spray and has 99.9% antibacterial effectiveness even after 48 hours. The body perfumes are also FDA approved.
With a half-frosted and half-glossy bottle design, containing calming odors and antibacterial function, La Moit brings wellness, ease and comfort collectively to the community.
The fragrance will be available in three scents: After Bathe, A Little Walk and Calm Birch.
The company has also announced a personalized gift option: a Christmas box set printed with customers' names for the holiday season.
The Founder of La Moit, said, "Life had been anything but dull, but there was nothing triggering my contentment Drowning endlessly into recurring nights of hysteria, my smile and my dreams were long forgotten. This was me, a wounded soul living in an apathetic and lonely world. Together with the outbreak of the COVID-19 pandemic, my insomnia, unexplained aches and weight loss exacerbated."
"Realizing the seriousness of my condition, I eventually visited a consultant," they continued. "It was then, I encountered an unforgettable whiff of an earthy balsamic aroma consisting of a touch of floral with citrus layers and a woody note. I attempted to search for this particular fragrance but couldn't find it. My consultant then suggested that I recreate it myself, and that was when La Moit's signature perfumes were born."