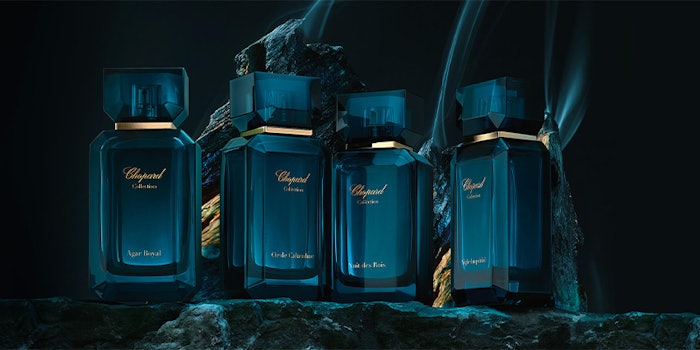 Chopard's Garden of the Kings line includes four fragrances. 
Related: Antoinette Poisson Creates Fragrance Line
The fragrances and notes include:
Agar Royal has notes of agarwood, laotina oud, black pepper, tuberose, vetiver, patchouli, cypriol oil, jasmine, Mandarin oragne and bergamot. 
Nuit des Rois has notes of sandalwood, vetiver, argarwood, laotin oud, guaiac wood, saffron, neroli, bitter orange, cardamom, honey, vanilla, iris and rose. 
Or De Calambac has notes of cinnamon, cocoa, tonka bean, star anise, red pepper, cardamom, vetiver and myrrh.
Aigle Imperial has notes of assafi oud, oud palao, laotian oud, black pepper, tubrerose, vetiver, patchouli, cypriol, jasmine, mandarin orange and bergamot.
Each eau de parfum comes in a 100 ml royal blue glass bottle and retails for $328.