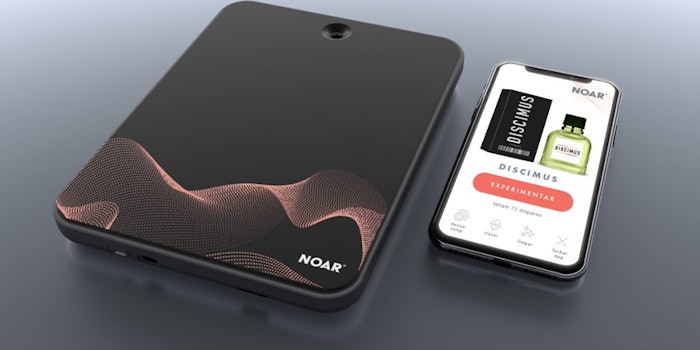 Noar, a Brazialian start-up company, has gained Natura, which has 1.2 million beauty consultants in Brazil, as its first customer, according to Embalagemmarca.
Related: Natura &Co E-Commerce Sales Grow 225% in Q2
Noar has developed the MultiScent 20, which is multisensory technology that allows consumers to feel "digital smell". MultiScent 20 is a device controlled through an application, that allows consumers to try 20 different fragrances (each refill lasts around 100 shots) through "dry air technology" that leaves no residue behind. It can also give consumers information such as images of the products or videos and music to help feel the fragrance. 
"The new device is a sales tool that is different from all the types of sampling available, and the fact that it is a dry scent experiment, which does not spread residues in the air, allows customers to try more perfumes," said Roseli Mello, global head of R&D at Natura.
Noar has also gained its first investor: Wheaton, and will receive an investment of $30 million in the coming years. 

"In addition to making the customer feel the fragrance, which in itself is a fantastic technological solution, the solution brings security to the user and also contributes to environmental preservation, since it eliminates the need to print a huge amount of traditional catalogs, and avoids the production of special packaging for samples and testers," said Renato Massara Júnior, commercial and marketing director at Wheaton.
MultiScent 20 is scheduled to reach retailers and beauty consultants by the end of the year, in Brazil and Latin America.