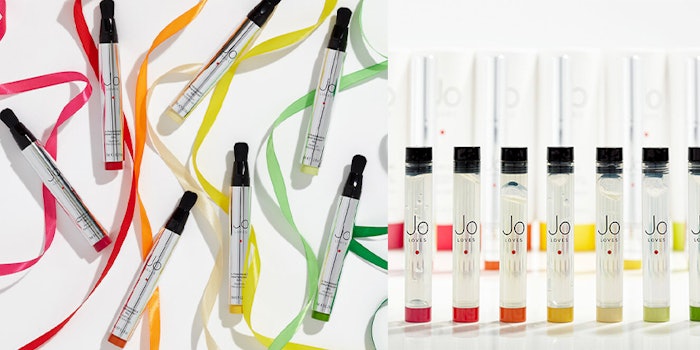 Jo Loves has introduced its Fragrance Paintbrush, a vegan, cruelty free and completely refillable with a cartridge carrying the fragrance gel. 
Related: KKW Fragrance Previews New Hearts Collection
The paintbrushes are available in the following fragrances:
Pomelo, with notes of vetiver, pomelo, patchouli and pamelo zest. 

Jo by Jo Loves, with notes of grapefruit, lime and guaiac wood.

White Rose & Lemon Leaves, with notes of white rose oil, lemon peel, rose absolute and cedarwood.

No. 42 The Flower Shop, with notes of crushed green leaves and stems, peonies and moss. 

Green Orange & Coriander, with notes of black pepper, bitter green orange and coriander seed. 

Orange Butterflies, with notes of orange blossoms, mandarin and petitgrain.

Pink Vetiver, with notes of vetiver, crushed pink peppercorns, cardamom and ginger. 
 All fragrances are available £40 each and refill sets include three refills for £35.