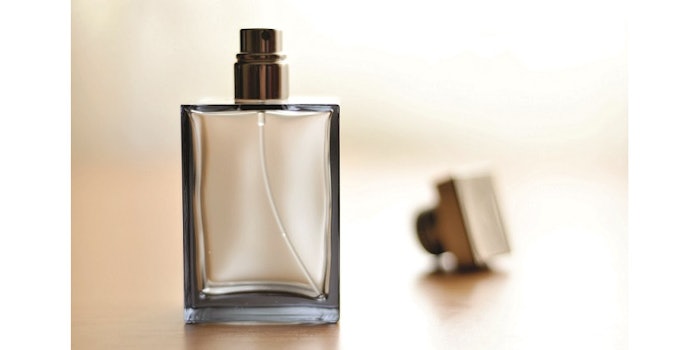 For most of modern perfume's history, perfume fell into two camps: male or female. Female perfumes would tease the nostrils with flowers on the edge of the woods, while male fragrances would compel you deeper into the forest with woody and musky odors. Advertising played it safe too, with marketing campaigns reinforcing gender stereotypes. In 2018, however, fragrances (and in most of contemporary culture) go beyond gender. While many male and female fragrances tend to play it safe, focusing on floral or woody scents, gender-neutral fragrance has expanded the boundaries of fragrances.
"We're living in a world that is increasingly nonbinary and genderfluid, and fragrance lovers tend not to care about gender in fragrances anyway. They just wear what they like," said Barbara Herman, founder of Eris Parfums and author of Scent and Subversion: Decoding A Century of Provocative Perfume. "I think we should just ditch the 'for men' and 'for women,' and put perfume in more perfume-centric categories – floral, fresh, green, woodsy, spicy, etc. It's hard to dislodge our connections between certain notes and gender, but we can at least change the marketing."
Started with One
It started with one, CK One. In 1994, Calvin Klein released the first marketed gender-neutral fragrance. The perfume included top notes of bergamot, cardamom, pineapple and papaya; heart notes of jasmine, violet, rose, nutmeg; and base notes of musk and amber – a balance between male and female elements.
"The concept of gender neutrality has been around in perfume at least since the 90s, with the blockbuster success of CKOne, which was marketed as the first unisex fragrance and described as 'for men and for women.' This category tends to be fresh, citrusy, not very sensual. More like a sport scent or office scent," said Herman.
After CK One, other gender-neutral fragrances slowly began to emerge on the market. The same year saw the launch of Messe de Minuit by Etro, a fragrance that included top notes of bergamot, lemon, orange; heart notes of Ceylon cinnamon, petit grain citronnier, patchouli; and base notes of myrrh, labdanum and musk. Around the same time, Premier Figuier by L'Artisan Parfumeur was released, which featured fig notes. However, the decade more or less ended the way it began. Following the success of CK One, Calvin Klein released CK be in 1996, solidifying its role in the emergence and expansion of unisex fragrances.
A Diverse Market
Flash forward roughly twenty years, the market has rapidly expanded. The gender-neutral fragrance market saw 750 global launches in 2015, an increase from 314 in 2014a, and shows few signs of slowing down. Major brands like Tom Ford, Bond No. 9 New York and Yves Saint Laurent among others offer a range of unisex fragrances.
On Yves Saint Laurent website, the company offers over 20 products under the unisex categoryb. Many of the fragrances take a simplistic approach to unisex fragrance and are named after specific scents. Yves Saint Laurent's Le Vestiaire des Parfums Collection de Nuit includes three fragrances, which include leather, velvet and vinyl. Its Le Vestiaire des Parfums collection takes a similar approach with fragrances like Tuxedo, Saharienne, Trench, Caban and Caftan. Yves Saint Laurent's Tuxedo fragrance is an oriental spicy fragrance that includes scents of black pepper, smoked patchouli, cardamom and an ambergris accord, while its Saharienne perfume is a floral citrus fragrance with notes of neroli petals, white musks and wild grass. In addition to these two collections, the company offers oriental-inspired unisex fragrances in its Oriental Collection and Le Vestiaire De Parfums Collection Oriental. The collection features Splendid Wood, a deep woody perfume with cardamom and cedarwood notes; Noble Leather, an oriental leather fragrance with vanilla, patchouli and dried fruit notes; Majestic Rose, a woody floral perfume with raspberry, mar rose, and saffron notes.
Bond No. 9 takes several different approaches to unisex fragrances. Chief among them are scents inspired by New York neighborhoods and places. Soho is a fragrance that includes notes of sweet orange, petitgrain, cassis absolute, orange blossom, jasmine, orris, amber, musk, oakmoss and cedarwood, while its New Haarlem fragrance features scents of lavender, bergamot, green leaves, coffee, cedarwood, amber, vanilla, tonka and patchouli. Blending the New York influence with an aquatic theme, Bond No. 9 offers Sag Harbor and Hamptons. Sag Harbor is a fragrance with notes of bergamot, ivy leaves, a Sag Harbor Bay accord, peonies, magnolia, oud, amber and sandalwood; where Hamptons includes lime blossom, bergamot, white jasmine, magnolia, amber and sandalwood notes.
At the end of 2017, Tom Ford released Fucking Fabulous, a unisex fragrance with lavender, bitter almond, tonka bean, clary sage orris root, leather, cashmeran, amber and white wood notes. Prior to that release, the brand released three oud fragrances with Oud Minerale, Oud Wood Intense and Tobacco Oud Intense. Then in early 2018, the brand released Eau de Soleil Blanc, a unisex fragrance that includes top notes of orange bitter peels, bergamot, petitgrain bigarade, caraway seed, pink peppercorn, cardamom, pistachio; heart notes of Moroccan orange flower, rich nectar, jasmine, tuberose and ylang ylang; and base notes of amber and vanilla.
Keep It Plain
On the niche side of fragrances, unisex comes in a variety of forms. One popular trend among unisex fragrances is creating packaging and branding with a sleek modern look, devoid of the traditional gender markers of female or male fragrances. The fragrances themselves range from simple representations that highlight a particular scent to fully developed fragrances with top, middle and base notes.
A popular brand in the sleek, modern unisex fragrance space is Commodity. Started in 2014 by London-based entrepreneurs Konstantin Glasmacher and Ash Huzenlaub, Commodity quickly became a popular seller at Sephora storesc. Commodity fragrances are plainly packaged and are named after a single ingredient or object, such as orris, bergamot, book, vetiver, leather, moss or tonka. Despite its single ingredient name, each fragrance uses a blend of other ingredients to enhance the featured note. Its tonka fragrance includes top notes of almond oil, Indian Davana oil and cardamom oil; middle notes of lotus and magnolia oil; and base notes of Venezuelan roasted tonka absolute, Peru balsam absolute, Australian sandalwood oil and Laos benzoin resinoid.
Taking a more scientific bend to unisex fragrances, Escentric Molecules focuses on the art and chemistry of fragrance. Currently, Escentric Molecules offers four fragrances in two formulations simply named 01, 02, 03 and 04. The pair of fragrances are presented in two different ways: the Escentric fragrance and the molecule fragrance, each sold separately. The Escentric fragrance highlights the characteristics of a specific aroma molecule with key ingredients, whereas the molecule fragrance is a minimalistic representation of the fragrance and only contains the aroma molecule with no additional odorants. Escentric 01 features Iso E Super at 65% and also contains notes of lime peel, hedione, orris, balsamic notes and fresh musk. Its counterpart, Molecule 01, simply focuses on the cedarwood aspect of Iso E Super.
Fragrance newcomer DedCool follows the same aesthetic as Escentric Molecules but with a chic edge. Cased in clear perfume bottles, the fragrances are simply named Fragrance 01, Fragrance 02, Fragrance 03, etc. DedCool's Fragrance 01 includes top notes of bergamot and fresh dew; middle notes of cassis and floral; and a base of vanilla and amber. For a fragrance with a bit more of a muskier edge, DedCool's Fragrance 02 includes top notes of juniper; middle notes of green floral, sheer woods and patchouli, and a base of sandalwood and musk. In addition to being unisex, the fragrances are formulated to be vegan, cruelty-free and non-toxic.
Psychologists to Zoologists
A modern sensibility isn't the only thing that has influenced the gender-neutral fragrance market. Paying homage to the intersection between art, nature and pop culture, everything from animals to famous figures and fake authors has been used as inspiration in unisex scents.
"Regardless if the perfume wearer is male, female or somewhere in-between, the unisex fragrance category has changed how consumers think and buy perfume."
Zoologist Perfumes feature a range of fragrances based on animals. The brand currently has 11 fragrancesd inspired by the scents and even personalities of bats, dragonflies, civets, nightingales and pandas among others. Zoologist Bat includes top notes of banana, soft fruit, damp earth; middle notes of fig, tropical fruits, minerals notes, myrrh, resins and vegetal roots; and base notes of furry musks, leather vetiver, sandalwood and tonka. The more recently introduced Zoologist Elephant includes elements of elephants' surroundings and ecosystem. The fragrance includes top notes of tree leaves, magnolia, Darjeeling tea; middle notes of cocoa, coconut milk, incense, jasmine and woody notes; and base notes of amber, musks, patchouli and sandalwood.
Fashion designer and fragrance brand Bella Freud, created by the great-granddaughter of Sigmund Freud, finds inspiration from famous figures. Ginsberg is God is a unisex fragrance inspired by Allen Ginsberg that includes notes of frankincense, wormwood, leather and black pepper. Inspired by her great-grandfather, Psychoanalysis blends notes of tobacco flowers with base notes of cedarwood, dry amber and dark musks.
Concept perfume brand Imaginary Authors takes a twist on fragrances inspired by famous figures and invents entirely new ones. Its line of unisex fragrances is inspired by fake authors and books. The packages and labels pay homage to vintage book covers and literary classics. Among some of its fragrances include Slow Explosions, which includes notes of saffron, rose absolute, leather, apple, benzoin and cashmeran. A City on Fire, features cade oil, spikenard, cardamom, clearwood, dark berries and burnt matches.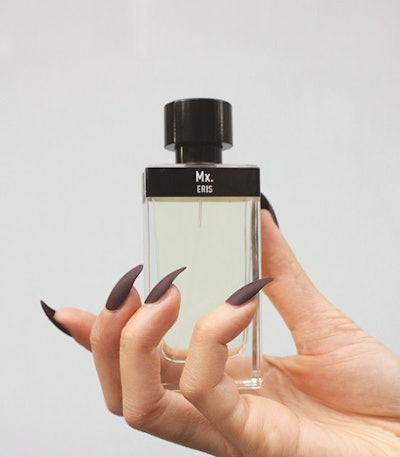 Inspired by the gender-neutral title that is replacing Mr. or Mrs., Mx. is a genderfluid fragrance with notes of ginger, black pepper, sandalwood, cedar, birch tar, patchouli, saffron, cacao, vetiver and castoreum. Photo courtesy of Eris Parfums.
A Growing Gender Revolution
One fragrance, in particular, is innovating the unisex space by celebrating gender in all its forms. Named after the gender-neutral title Mx. (pronounced "Mix"), the fragrance by Eris Parfums plays with traditional gender perceptions with a scent that includes notes of ginger, black pepper, saffron, olibanum, sandalwood, cedar, vetiver, patchouli, benzoin, birch tar, cacao and castoreum.
"Mx. is genderfluid — sometimes hinting at conventionally masculine notes, sometimes conventionally feminine notes — but truly blurring their boundaries, never landing in one place, constantly changing," said Herman. "Gender-neutral implies not taking a position but in a way Mx. is taking all gender positions, or at least keeping their possibilities open."
Mx. isn't alone though in this line blurring. In 2016, French designer Philippe Stark created three fragrances, one for men, one for women, and one for a new generation who are neither man or womane. Peau d'Ailleurs contains earthy, woody and musk notes. And just as Calvin Klein helped establish the genre, it is reinventing the game. In 2016, Calvin Klein released CK2f, a gender-free scent with top notes of wasabi, green spices, mandarin and violet leaf absolute; heart notes of wet stones, orris absolute and rose absolute; and base notes of sandalwood, incense and vetiver.
In addition to unisex or gender-neutral fragrances being a market driver, they have also become a reflection of the fragrance wearer's identity and personality. Another trend that is slowly emerging in the arena of unisex fragrances are fragrances for transgender or gender non-conforming individuals. Though representing roughly 1% of the United States populationg, transgender consumers represent a small, but emerging demographic, that is interested in enhancing their life through a scent that matches their identity.
A Look Ahead
According to a Report Buyer reportg, the global perfumes industry is estimated to be valued at $39.67 billion at the end of 2016 and will grow at a CAGR of 5.9% between the years 2016 and 2026, with unisex perfumes growing at a higher 6.9% CAGR. The largest consumer cohort, millennials, are also caring less and less about gender and societal norms. A GlobalData report showed that one-third of consumers disagreed that they felt pressured to follow traditional gender normsh.
"Fragrance is one of the beauty and personal care segments that is fully tapping into the gender-fluidity trend. Recently, this has become increasingly evident in the proliferation of androgynous fragrance launches across brands, which strive to capture consumers' attention by resonating with their desire to express themselves," said Iliyana Mesheva, consumer analyst at GlobalDataj.
Regardless if the perfume wearer is male, female or somewhere in-between, the unisex fragrance category has changed how many consumers think and buy perfume. Though traditional male or female scents will remain popular, the unisex perfume segment is creating more options for the growing conscious consumer. With the increase in consumer demands and the great number of launches, the unisex fragrance market should see strong growth, along with interesting innovations in fragrance formulation, branding, design and packaging.