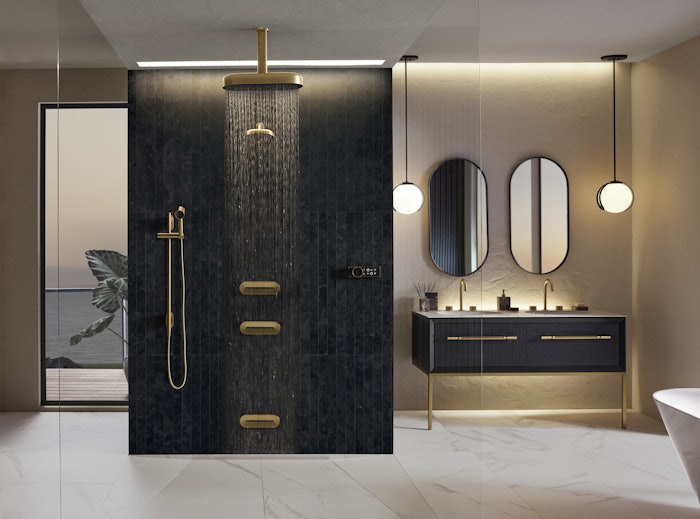 With well-being and functional products growing in popularity, Kohler has launched two products incorporating aromatherapy at CES 2023.
The global aromatherapy market size is expected to surpass around $5.62 billion by 2030 with a registered CAGR of 11.2% during the forecast period 2022 to 2030. At the same time, Pinterest highlighted showers as a key self-care trend for 2023. In fact:
Shower routine aesthetic searches are up 460%
Amazing showers walk in searches are up 395%
Shower bomb searches are up 90%
Home spa bathroom searches are up 190%
Sprig is Kohler's new lifestyle brand, consisting of shower infusion systems with natural shower infusion pods, versatile body and linen mists and bath bombs said to provide a peaceful escape through aromatherapy.
Sprig infusion systems retrofit to an existing shower to diffuse aromatherapy into the water, to "elevate a daily routine into a moment of escape to enhance well-being."
For instance, the Relax Shower Infusion Pod consists of a chamomile and green tea scent that inspires calm. Each pod is enhanced with hyaluronic acid and sodium PCA to deliver self-care experiences for the user's skin and hair.
Ingredients for the Relax Shower Infusion Pod include: Water (Aqua), Glycerin, Heptyl Glucoside, Fragrance (Parfum), Phenoxyethanol, Caprylyl Glycol, Acacia Senegal Gum, Hyaluronic Acid, Sodium PCA, Xanthan Gum, Tocopheryl Acetate, Geraniol, Heptanol, Sodium Phytate, Eugenol, Citronellol, Limonene, Coumarin, Benzyl Benzoate, Citral, Farnesol and Citric Acid. 
As a 2023 CES Innovation Award honoree, Kohler's Stillness Infinity Experience bath is a multi-sensory smart bathing experience said to transform the bathroom into a sanctuary for relaxation and comfort. The freestanding bath brings together water, light, fog and aromas to create an immersive experience to be customized through the Kohler Konnect app.