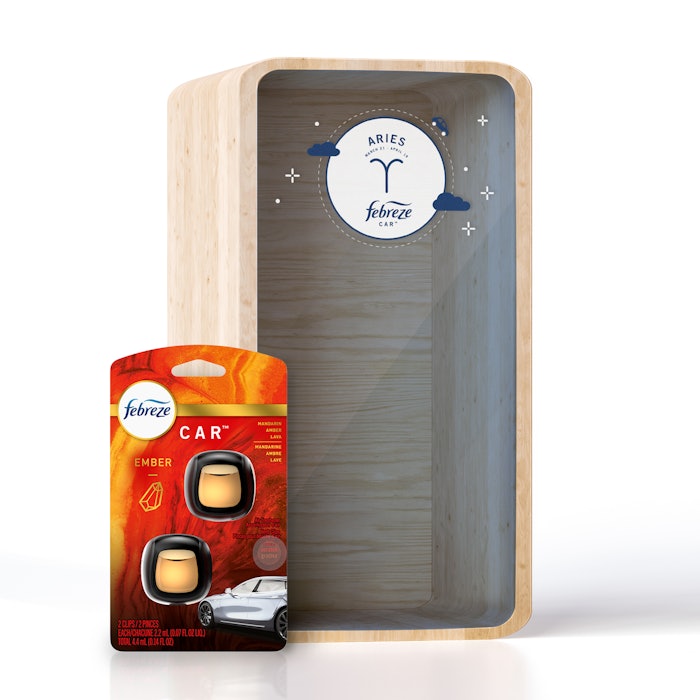 Febreze has partnered with celebrity astrologer Aliza Kelly to design the Febreze CARstrology Collection, consisting of 12 car vent clip fragrances that are designed to pair with each zodiac sign.
Related: The Gift of Scent Launches USB Diffusers
Febreze Car vent clips have a controllable scent intensity that ranges from "light freshness" to "scent-tastic." When set to low, each clip lasts for up to 40 days.
Febreze will be giving away a limited amount of the CARstrology Collection in keepsake zodiac-themed boxes to a select number of winners. The sweepstakes runs from May 3, 2022, to May 31, 2022, with winners announced on June 1, 2022.
Kelly said in a press release, "Scent is a powerful portal that can manage your energy and shift your mood. Tapping into that in spaces like your car is an easy way to make life more pleasurable. The Febreze CARstrology pairings specifically reflect the core essence of each astrological archetype and what that sign needs most when on the road. After all, the journey is the destination, so why not have a fabulous driving experience?"
Scent Pairings include:
Aries—Febreze Car Ember (mandarin, amber, lava)
Taurus—Febreze Auto Lush (vanilla, melon, apple, musk)
Gemini—Febreze Car Unstopables Fresh (airy, crisp notes)
Cancer—Febreze Car Gain Moonlight Breeze (tropical, fresh)
Leo—Febreze Car Unstopables Paradise (tropical fruit)
Virgo—Febreze Car Linen & Sky (crisp, clean notes)
Libra—Febreze Auto Leather (tonka, wood, amber, hearth, pepper, bourbon)
Scorpio—Febreze Auto Midnight (aqua, violet)
Sagittarius—Febreze Auto Wilderness (earthy, citrus and floral)
Capricorn—Febreze Auto Evening Woods (amber, patchouli, pine)
Aquarius—Febreze Car Platinum Ice (cashmere, patchouli)
Pisces—Febreze Car Ocean (ginger, waterlily, hinoki)
Want to know everything going on in flavor & fragrance? Sign up for P&F+'s newsletter. You can also follow along on Instagram and LinkedIn.