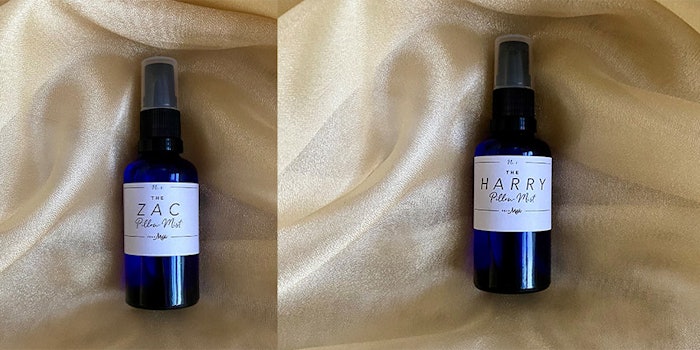 The company, Pour Moi, has announced its collection of celebritity scented pillow mists. 
Related: Jody Watley Debuts Home Fragrance Line
The scents are based off celebrities' favorite perfumes and fragrances.
The collection includes the following mists:
The Harry, inspired by Harry Styles, has notes of vanilla bean, dry fruits, and sweet wood sap.
The Bradley, inspired by Bradley Cooper, has notes of fir, coriander and leather. 
The Zac, inspired by Zac Efron, has notes of fresh herbs and green apple.
The Maya, inspired by Maya Jama, has notes of warm fruit, spice and honey.
The Margot, inspired by Margot Robbie, has notes of persimmon, pomegranate and orchid. 
The Ri, inspired by Rihanna, has notes of marshmallow, orange blossom and neroli. 
The Jennifer, inspired by Jennifer Aniston, has notes of orange blossom, lily and sandalwood.