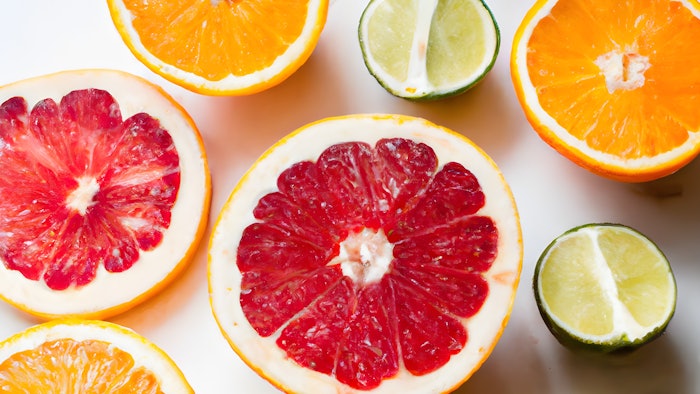 PEXELS
Citrus flavors are among the most popular in the world and are a featured ingredient in an endless array of entrees, snacks, confections and beverages, yet consumers are demanding a lot more out of the citrus category in recent years and developing a sophisticated palate for these flavors.
Related: Report: No- and Low-alcohol Beverage Market Value
Overall, the citrus market is booming. The citrus category is expected to expand at a CAGR of 4.9% over the next 10 years, reaching a total market value of $19.4 billion by 2031. In the beverage category alone, citrus has increased 16% as a mentioned menu ingredientb from 2018 to 2021. As demand for citrus continues to grow, consumers are seeking variety and improved taste in citrus products and demanding more than the category's traditional flavors. In recent years, the flavor industry has risen to the challenge with an advanced offering of citrus varieties, ingredients and formulations designed to cater to evolving consumer demands.
Adding Sophistication to Sweet and Savory Products with Citrus
Sweet, sour, tart and refreshing, citrus offers a diverse range of flavor attributes that can add a layer of sophistication to sweet and savory products.
Much of the innovation in citrus flavors is centered on food service, which is often the most effective way to introduce new flavors to consumers. Following the early period of the pandemic, a "dining boom" followed in 2021, which primed consumer interest in trying new, exciting flavors. According to a 2021 Mintel surveyc, more than a third of consumers wanted to try new restaurants, flavors or menu items in 2022, demonstrating the immense opportunity for restaurant operators to focus on new offerings and flavor variations. As consumers continue to be increasingly adventurous with their dining choices, these flavors make the transition from food service restaurant menus to grocery store products and become more widely adopted.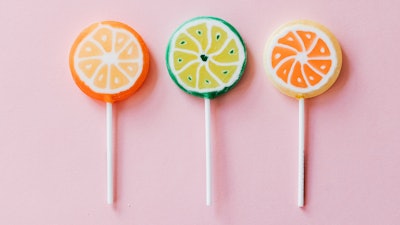 Elevating Citrus in the U.S. With Emerging and Novel Ingredients
While citrus flavors have long been popular for a wide range of foods and beverages, consumers are developing much more adventurous palates and demanding more from the category. Part of this shift includes an increased willingness to try new flavors that offer a twist on the familiarity of citrus with emerging and novel citrus varieties from all around the world.
It's no surprise that flavors like orange, lemon, lime and grapefruit still dominate the citrus category for food and beverage flavors, and likely always will in the U.S. market, but consumers are showing increased interest in global citrus varieties, particularly those from Asian countries such as Japanese yuzu, hassaku, sudachi and many others. These exotic variations of citrus offer a distinct complexity, zest and excitement, while still appealing to the familiarity of traditional North American citrus fruits.
Yuzu is growing particularly popular with U.S. consumers. With a distinctly sour and tart taste, yuzu is not dissimilar from grapefruits and some lemon varieties, but adds an excellent zest to marinades and savory dishes, beverages and even in ice creams, chocolates and other desserts. Commonly introduced to U.S. consumers through its inclusion in ponzu sauce in Japanese cuisine, yuzu is rapidly growing as a versatile twist on a classic tart citrus profile.
"Much of the innovation in citrus flavors is centered on food service, which is often the most effective way to introduce new flavors to consumers."
Another Japanese citrus variety that is gaining momentum in North America over the past few years is iyokan. Similar to a mandarin orange or a tangerine, iyokan is a highly fragrant sweet citrus that is commonly used in pastries, chocolates and candies, and even used to enhance fish flavors and other savory dishes. As these flavors become mainstream via restaurant menus, and consumers become aware of these varieties, operators are finding new applications for citrus like yuzu and iyokan in North American cuisine.
Interest in these international citrus flavors is being boosted by younger Millennial and Gen Z consumers, a demographic that are the most diverse in U.S. history, according to Minteld. Since younger consumers are open to exciting new flavors and seek diversity in their food choices, brands can leverage this in new product development. The growth of international citrus flavors also reflects changing consumer eagerness for global cuisine as a source of excitement and adventure during the pandemic. Even as the pandemic wanes, and we enter a period of economic uncertainty, consumers look toward globally-inspired dishes as a convenient, low-cost way to spice up life. CPG food companies and food service brands are responding to this shift in demand with boldly flavored new products and menu items that tap into consumers' desire for global cuisine. In fact, according to Mintel researche, 36% of U.S. consumers would like to see more authentic international flavors in the grocery store.
Harnessing the Health Halo of Citrus
Citrus has long held an association with health and wellness among consumers. To brands, this "health halo" is a valuable tool that can be leveraged to produce food and beverage products that deliver great taste with implied functional health benefits such as improved immunity support, mental health and general wellness. Certain citrus fruits are practically synonymous with vitamin C and boosted immunity, making these ingredients the ideal platform for product development centered around functional health benefits.
Operators can fully leverage the health attributes of citrus flavors by highlighting the citrus ingredients that are associated with immunity, vitamins and antioxidants. Connecting citrus ingredients with consumers' health goals, such as increased mental focus, strengthened immunity and improved physical well-being is a great way to add value to applications and align flavor and ingredients with what consumers are already looking for in terms of functional benefits.

Growing the Citrus Category in the U.S. Through Flavor Development
While the range of citrus ingredients and formulations has been rapidly expanding in recent years, the category has a lot of room for growth in the U.S. market, which is being fueled by evolving flavor technology.
As the flavor industry becomes more advanced, leading flavorists are identifying innovative new ways to deliver the exact variation of citrus flavor that consumers demand. No longer limited by basic "one-size-fits-all" ingredients such as grapefruit, lime, orange or lemon, flavor technologists can now offer very specific versions of these classic citrus ingredients for use in various applications, such as zesty lemon (oily, aromatic and fresh, pulpy, refreshing), or candy lemon (tart, sweet). As flavor technology continues to improve, we are able to provide the exact formulation needed to deliver the optimal taste for any given application.
Overall, citrus is poised for immense growth in coming years, as consumers continue to broaden their palate for exciting new citrus flavors and ingredients, and the industry keeps innovating with new technologies and processes aimed at expanding the possibilities of the category.
References
a.     Future Market Insights, Citrus Flavors Market Outlook (2022-2032), US, 2022

b.      Mintel, Trendspotting on US Menus: Floral and Citrus Beverages, US, January 11, 2022

c.      Mintel, Trending in Japan: RTD Alcoholic Beverages, US, October 25, 2022

d.      Mintel, Generation Z Set to Impact the Future of Food and Drink Innovation, 2018

e.      Mintel, Regional and International Flavors and Ingredients, US, 2022
Want to know everything going on in flavor & fragrance? Sign up for P&F+'s newsletter. You can also follow along on Instagram and LinkedIn.